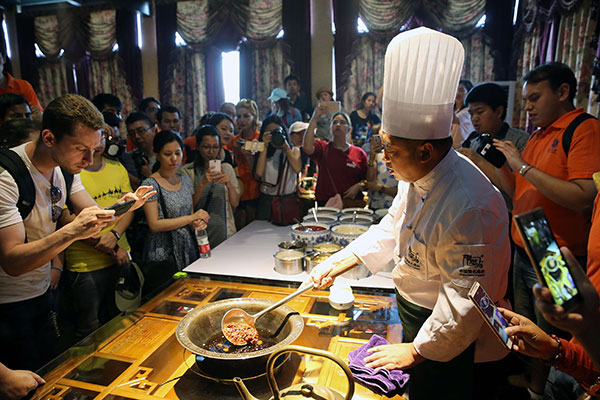 Boasting both the best and largest number of hotpot restaurants in the country, Chongqing was named "China's hotpot city" by the China Cuisine Association in 2007.[Photo by Wang Zhuangfei/China Daily]
Centerpiece of visit is hotpot, accompanied by traditional face-changing performance
"I love Chongqing hotpot," wrote Japanese student Seita Nukada in beautiful Chinese calligraphy to express his passion for the local cuisine.
The 21-year-old, an exchange student at Southwest University, has eaten at over 30 hotpot restaurants in this southwest metropolis in the past nine months, and he said he is "addicted" to the burning feeling of Sichuan pepper.
He presented the calligraphy scroll as a gift to Yan Qi, the co-founder of Chongqing Hotpot Museum and Restaurant on June 17 after Yan gave a speech on local food history to overseas visitors.
Organized by the China Scholarship Council, 85 students from 40 countries who are studying in Chongqing participated in the summer program "Feeling the energy of China". Southwest University was the host this year.
One of the highlights was learning about the city's most popular food: hotpot.
Boasting both the best and largest number of hotpot restaurants in the country, Chongqing was named "China's hotpot city" by the China Cuisine Association in 2007.
Traditional Chongqing hotpot uses beef tallow and large quantities of chili and Sichuan peppers. Ox stomach and duck intestine are the must-have dishes on locals' hotpot tables.