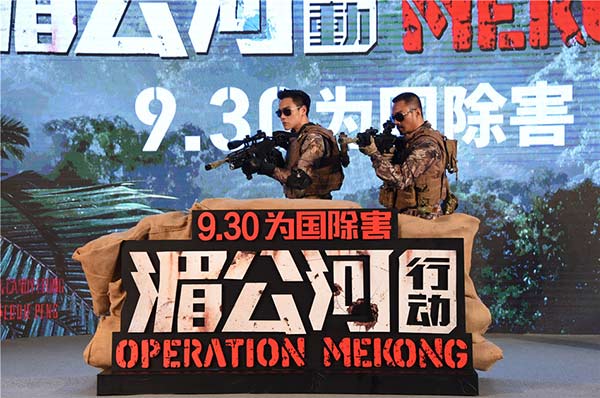 Cast of Operation Mekong, based on the 2011 Mekong Massacre, in which 13 Chinese sailors were slaughtered by Myanmar drug-trafficking ring. [Photo provided to China Daily]
In his career spanning 14 years, Taiwan actor Eddie Peng has played many romantic characters.
But in the upcoming action thriller Operation Mekong, the idol star takes a different path.
He took lessons in weapons use and close combat training to play a daredevil government agent who hunts down criminals in the notorious "Golden Triangle", one of Asia's biggest opium production areas.
The film, set for a national release on Sept 30, is based on the real incident of Mekong Massacre, which saw 13 Chinese sailors brutally slaughtered by a Myanmar drug-trafficking ring on Oct 5, 2011.
In a Beijing event to promote the movie on Aug 24, Peng showed up in the military gear featured in the action thriller. A 3-D trailer released at the festival shows the explosive spectacles.
Peng said Operation Mekong is his third feature directed by Hong Kong action master Dante Lam.
The previous two were Unbeatable (2013), featuring a boxing legend, and the sports film To the Fore (2015), which centers on cyclists.
"Lam is a demanding director and always wants the scene to be as close to reality as possible," says Peng, during the event.
Lam earlier revealed to China Daily that he researched some confidential files from the Ministry of Public Security to bring authenticity to the script.
As the major shoot happened in Myanmar, Peng says most of the days the temperature was around 45 C and there were a lot of mosquitoes and snakes in the wild.
"Honestly, it was the most risky and toughest environment that I've ever worked in," says the 34-year-old.
Apart from Peng, the cast also include veteran actors Zhang Hanyu, Chen Baoguo and up-and-coming actress Feng Wenjuan.
Zhang, known for Tsui Hark's revolutionary epic The Taking of Tiger Mountain, stars as the leader of an anti-drug squad.
Also wearing the military suit to appear in the event, Zhang reveals the weapons he used in the movie were all real.
"All these things-- the costume and weapons-- weigh north of 30 kilograms. I have to run very fast wearing these in one scenario, in which I'm chased by a dog," he recalls, adding the patriotic film will polish domestic recognition of the action genre.