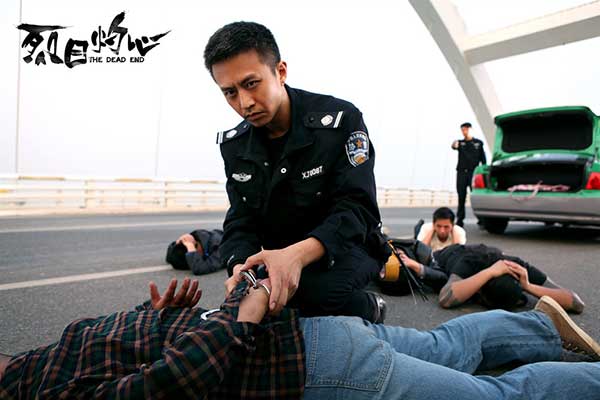 Actor Deng Chao in The Dead End. [Photo/Mtime]
Nominees of 33rd Hundred Flowers Awards, one of China's highest honors awarded for excellence in cinema, were announced in Beijing on Tuesday.
Sci-Fi film Mojin: The Lost Legend; blockbuster hits Monster Hunt and Goodbye Mr. Loser; thriller The Dead End, which won Best Director and Best Actor at the 18th Shanghai International Film Festival in June; and action film Wolf Warriors were nominated for the most sought-after Best Picture.
Guan Hu (Mr. Six), Peter Chan (Dearest), Wu Jing (Wolf Warriors), Raman Hui (Monsters Hunt) and Wu Ershan (Mojin: The Lost Legend) are competing for Best Director.
Renowned director and actor Feng Xiaogang, who won Best Actor for his performance in Mr. Six at the China Film Director's Guild Award, is nominated once again for his titular role, alongside actors Jing Boran (Monster Hunt), Deng Chao (The Dead End) and Huang Bo (Dearest).
For the best actress' guild, Bai Baihe (Goodbye Mr. Tumor), Xu Qing (Mr. Six), Zhao Wei (Dearest) and Yu Nan (Wolf Warriors) are competing for the honor.
The 33rd Hundred Flowers Award ceremony will be held on Sept 24 in Tangshan, Hebei province, as part of 25th Golden Rooster and Hundred Flowers Film Festival, which runs from Sept 21 to 24.
Related:
Ang Lee's 'Billy Lynn' to premiere at NYFF
Director Feng Xiaogang wins best actor