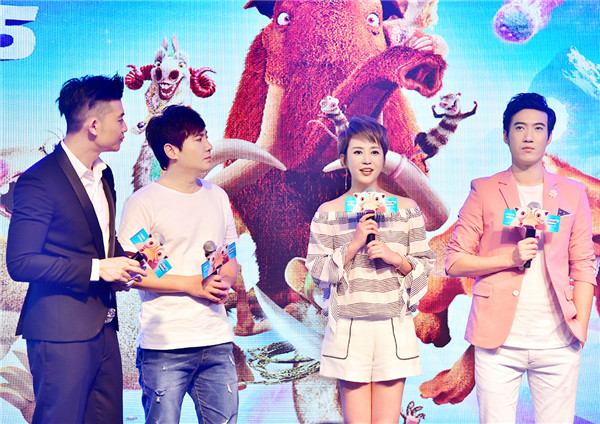 Shen Teng (second left), Ma Li (second right) and Chang Yuan (right) from China's popular theater stage group Mahua Fun Age do the voice-overs for the animated Hollywood film Ice Age: Collision Course. [Photo provided to China Daily]
Hollywood is again using Chinese celebrities to spread its influence in the lucrative mainland film market. This is the second such case in August.
In this instance, 20th Century's forthcoming animated film Ice Age: Collision Course is using local stars to do voice-overs for its Mandarin version.
Shen Teng, Ma Li and Chang Yuan from China's popular theater stage group Mahua Fun Age did the voice-overs for the male weasel Buck, the female ground sloth Brooke and the yoga-loving llama Shangri in the movie.
Mahua, which was founded in 2003, has produced 26 comedies and performed more than 4,000 shows across the country.
Earlier this month, Universal Pictures' The Secret Life of Pets featured the voices of TV show host He Jiong and comedian Chen Peisi in its Chinese version.
Meanwhile, Shen, who is followed by 4.3 million fans on the Twitter-like Sina Weibo, says his current effort is the first time he has lent his voice to a Hollywood tentpole, and it was a big challenge.
"Buck is a funny but neurotic character. I had to use all my experience to do the voice-over. It was much more difficult than I imagined," says the 39-year-old actor, who achieved overnight fame thanks to last year's dark-horse smash hit Goodbye Mr Loser.
Ma, also the lead actress of Goodbye Mr Loser, says her voice adds a Chinese flavor to the sloth, voiced by British singer Jessie J in the English version.
The latest film-the finale of the Ice Age franchise-which has lasted for 14 years, releasing one installment every three or four years, will open in Chinese theaters on Aug 23.
To date, the series, which centers on prehistoric animals, has accumulated global box-office takings of more than $3 billion, making it one of the best-performing animated franchises in history.