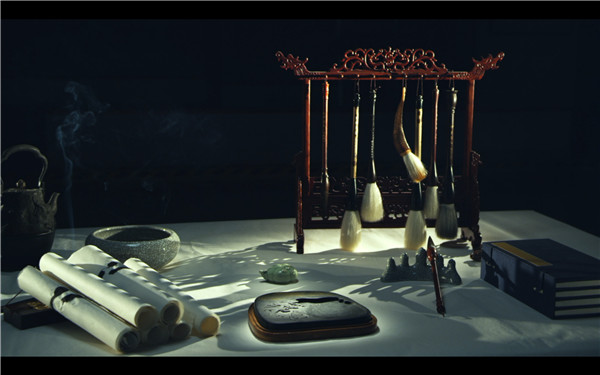 Scenes from the TV documentary The Four Treasures of the Chinese Study offer an insight into China's cultural legacies and their influences today. [Photo provided to China Daily]
Few people may connect the writing brush, a vital tool of ancient Chinese calligraphy, to the whiskers of a mouse.
But a hit TV documentary, The Four Treasures of Chinese Study, shows a veteran brush-maker obtaining a few such mice-whisker strands to make a pen's head and accounts of ancient calligraphers using such pens to write their masterpieces.
The six-episode documentary, with 50 minutes for each chapter, was aired on China Central Television over July 17-22.
It is still running on the provincial channel Anhui Satellite TV.
Weaving China's ancient legends into modern ink brushes, ink sticks, paper and ink slabs, which were traditionally hailed as a scholar's "four jewels", the documentary takes an insightful look into the Middle Kingdom's cultural legacies and their influences on today's society.
People can also watch the documentary online on leading streaming site iQiyi.