Restaurants offered insurance for illness caused by crayfish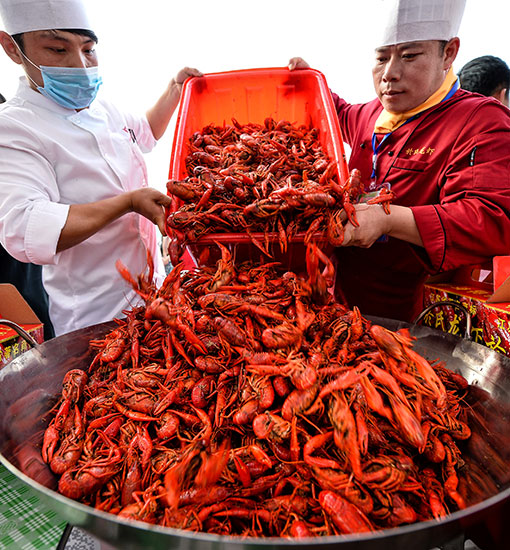 Cooks prepare crayfish for customers. The dish is highly popular in China during Summer time.[Photo by Li Xiang/Xinhua]
A large insurance company with branches nationwide is offering restaurants in Nanjing, Jiangsu province, insurance for a degenerative muscle disease that can come from eating crayfish. Insurance for crab and hotpot are on the way.
The insurance, offered by Ping An Property Insurance, is designed to protect the restaurants from claims made by people who get sick.
A person diagnosed with rhabdomyolysis - or rapid muscle breakdown - can be paid a maximum of 20,000 yuan ($3,015). Five local restaurants have paid 1,500 to 3,500 yuan to be insured for a year.
Zhu Qiang, a manager of the insured restaurants, said the insurance helps ease customers' worries, which will lead to increased business.
"Media report cases of rhabdomyolysis from time to time," Zhu said. "Though we pay great attention to food sanitation, we still buy the insurance to make customers feel more comfortable and safe."
Rhabdomyolysis, a deterioration of muscle fiber, has been associated with eating crayfish contaminated with chemical detergent residues. Chinese doctors speculate that a kind of widely used "shrimp washing powder" can cause the disease, which may later develop into kidney failure or even death.
"Some restaurants use the washing powder to cut cost," said Zhu. "Fewer workers are needed to wash the crayfish, which are not easy to clean. The powder is now strictly prohibited, and restaurants that value their reputations won't take the risk of using it." Under the insurance policies, customers who get the rare disease need to submit a hospital diagnosis to be compensated.
"The disease usually shows symptoms within six to 16 hours after eating crayfish," said Li Dan, a product manager of the Jiangsu office of Ping An Property Insurance. "As a pilot insurance, we are temporarily setting a 12-hour window."
According to a report released in August by Meituan, one of China's most popular online food-ordering sites, there are 17,670 crayfish restaurants in China, and the market is still expanding.
"Crayfish insurance is a subitem in the food safety liability insurance," said Wang Shengqi, deputy director of the market supervision bureau of Nanjing's Gulou district. "About 64.3 percent of local customers never heard of food safety liability insurance, because the policies are too complicated for the public to understand."
According to Wang, food safety liability insurance covering crab and hotpot, will be introduced soon.