News
Crayfish festival opens in Huanghua town
(chinadaily.com.cn)
Updated: 2016-07-26
The second crayfish festival opened last weekend in Huanghua town, Changsha county, with richer activities than last year.
Besides cooking and savoring crayfish-themed food together, visitors can also participate in a crayfish fishing competition, treasure hunting and interesting games in the daytime. At night, they can have a barbecue, watch a film and camp on the open grounds.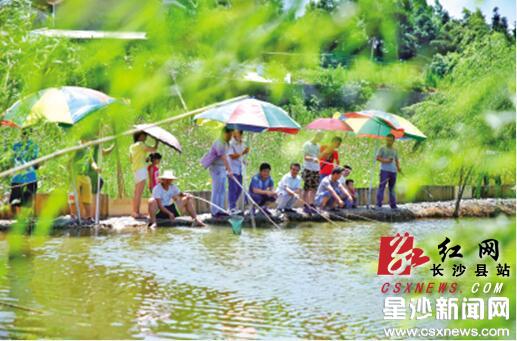 Visitors experience crayfish pond fishing in Huahui Eco-farm in Huangxing town, July 23. [Photo by Zhang Di / csxrmt.com]
With its waters and farms cultivating abundant agricultural and aquatic products, Huanghua town is a top choice for urban residents to enjoy idyllic weekends together.
The crayfish festival helps to increase rural incomes and promotes the ecology-related leisure industry in Huanghua town, said a town official.
In recent years, the local government has sought to revive the region's long tradition in porcelain making and boost local industry with the cultural influence of ancient Tongguan kilns, which have a history of 1,200 years.
Contact Us
Tel: +86(0731)-8401-8486
Add: No.19, Kaiyuan Rd, Xingsha, Changsha county