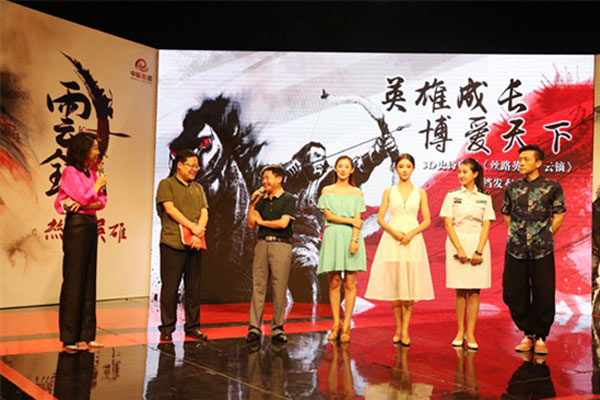 The cast and crew members of "Silk Road Hero: Khan's Arrow" attend a press conference of the film in Beijing on August 15, 2016. [Photo/china.org]
Historical epic "Silk Road Hero: Khan's Arrow" has premiered in Beijing.
The Chinese produced 3D film echoes the spirit of the country's "Belt and Road" initiative and centers around a Tang Dynasty (AD 618 – 907) love story from more than 1,000 years ago that illustrates China's historical connections with the Silk Road regions.
Written by award-winning writer Zong Tan, who is known for other historical dramas, "Khan's Arrow" has already grabbed the "Best Screenplay" award at this year's Beijing International Film Festival.
Shooting locations of the film included Hulunbuir in China's Inner Mongolia and Dunhuang in northwestern China, which are known for their stunning scenery and historical relics.
The theme song of the movie was sung by Chinese veteran singer Han Lei, whose solid performance has added to the grandeur of the film.
"Silk Road Hero: Khan's Arrow" will be shown in domestic theaters starting on September 13.