Using their noodles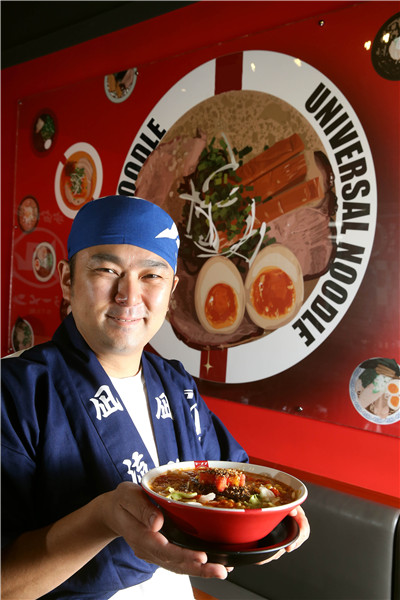 Sonoda Nobuhiro, co-owner and chef of Nagi. [Photo provided to China Daily]
At 2:40 pm a week ago, the sign reading "Sorry, noodles sold out" was put outside Ramen Nagi Universal Noodle in Shanghai's K11 Art Mall.
It was just the second week after the Tokyo ramen chain opened its first outlet in China: 400 bowls of noodles had been sold in fewer than four hours. People line up when the shop opens at 10 am to slurp the rich pork-broth noodles.
"We've learned that Shanghainese love noodles, but we didn't know the love could be as thick as our noodle soup," says Sonoda Nobuhiro, co-owner and chef of Nagi, with a helpless grin.
Four hundred bowls of noodles-or, more precisely, soup-is the maximum the Shanghai store currently can offer a day. It takes 20 hours to simmer the intensely meaty, opaque pale tonkotsu broth, which, like the white canvas of an oil painting, is the base for all types of noodle offered. There is just one custom-made stove tucked behind the open kitchen of the store, where the broth is simmering away even when the entire mall is closed.
"We sell a similar amount of noodles at our (original) Shinjuku store. It took us around 10 years to achieve that," says Nobuhiro, who has been working in Shanghai for three months to get the new outlet up and running.