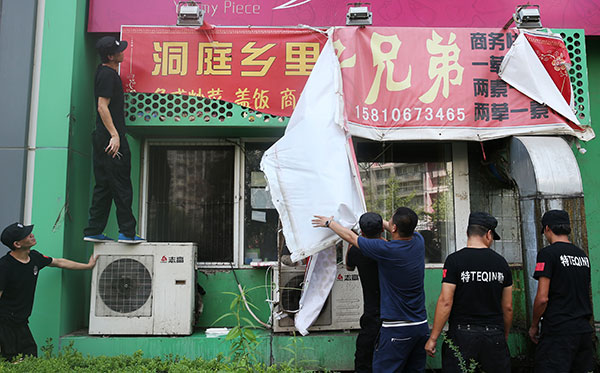 An outdoor sign for a restaurant in Chaoyang district, Beijing, that had no certificate is taken down on Monday.[Photo by Yin Yafei/For China Daily]
Three major online meal-ordering platforms pledged to intensify their oversight of businesses operating on their platforms to wipe out food safety problems.
Tang Yunhua, deputy head of Beijing Food and Drug Administration, announced on Wednesday that authorities would investigate alleged violations by the platforms - waimai.meituan.com, ele.me and waimai.baidu.com - which it said had failed to inspect certifications of hosted businesses and make the results public.
The administration also published a list of 60 restaurants running on the platforms that lack proper certificates or permits. The list included chain restaurants owned by popular brands, including two Xibei restaurants, which specialize in dishes from Northwest China, three KFC restaurants and one Subway. All the restaurants are located in Beijing.
In a statement provided to China Daily on Thursday, Baidu said it has set up an investigation team and suspended the online business of all the restaurants exposed by the Beijing FDA. It said it will conduct a thorough inspection of those restaurants, both online and offline, along with a review of all restaurants registered on the platform.
Waimai.baidu.com, Baidu's online meal-ordering platform, began displaying the certifications and sanitary information of all restaurants in Beijing that use the platform on Wednesday evening, the statement said.
The information to be made public includes a company's licenses and permits, as well as certification of sanitary conditions in the restaurants as graded by the Beijing FDA, so consumers can make good decisions when choosing online restaurants, it said.
More than 1,000 online restaurants on the platform were closed by the end of May after they were inspected, including 286 registered in Beijing, the statement said.
Wang Bicong, a food-safety supervisor at Meituan, said on Wednesday that all restaurants using its online meal ordering platform, waimai.meituan.com, that were improperly operating have been closed.
Over the past 10 months, the platform has refused registration applications from 74,000 businesses across China, and has closed more than 9,000 business on the platform for failing to pass inspections, including nearly 2,000 business registered in Beijing, Wang said.
Ele.me said it had closed all online restaurants involved in the case and will conduct inspections of the platform, according to a report by news portal jiemian.com.
Tang, of the Beijing FDA, said the administration will regularly publish the names of online meal-ordering restaurants found to have violated food-safety regulations, and all online meal-ordering platforms that fail to inspect the certificates of restaurants running on their platforms will be subject to the maximum fine - 200,000 yuan ($30,100), as specified in China's Food Safety Law.
Registered meal-ordering customers in China reached 150 million in June, according to the China Internet Network Information Center.