A taste of modern wines with ancient roots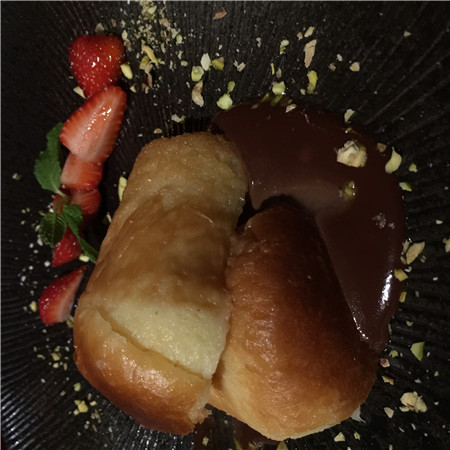 [Photo by Mike Peters / China Daily]
Marco De Martino was in Beijing last week to present a series of his family vineyard wines at a private dinner hosted by Chile's ambassador to China, Jorge Heine. The chosen wines included a pleasant chardonnay and two standout vintages of carmenere-which has come to be considered Chile's national grape.
But the surprise hit of the night was the De Martino Viejas Tinajas Cinsault 2014. A light and refreshing wine, it was like nothing most of us had ever tasted. There is an earthiness to both the taste and the aroma, and my first thought when I smelled it was "Cherry Kool-Aid". That sounds like a put-down (the renowned wine critic Jancis Robinson was smoother, describing the nose as "sour cherry"). But in fact, the wine is as tasty as it is intriguing.
Its individuality comes from the grape (Cinsault) and the chosen fermentation vessel, earthenware jars known in Spanish as tinajas. Though they vary, they are about barrel-size-much smaller than the huge clay amphorae used by Georgian and Armenian winemakers for thousands of years. But the tinajas have plenty of their own traditions, employed by winemakers in southern Europe for several centuries and still used by some Spanish and Portuguese winemakers today.
Spanish colonists, you may have guessed by now, brought the technique to Chile in the 1500s. Modernization and commercialization of Chilean wineries pushed the tinaja tradition into obscurity, but the enterprising De Martino family made a project of reviving it, and the results have turned heads around the world.
"It's the sort of summer red that would be delighted to be served cool," Robinson wrote in a column about the 2012 vintage, "and has no tough tannin so could be drunk without food as well as with fish." We'd say the same of the 2014, though we were happy to enjoy it with a grilled beef filet-intriguingly wrapped in almonds and seaweed and served alongside an asparagus risotto.
The Chilean Tinajas Cinsault wasn't the only wine with ancient roots that was taking a bow in China last week.
On the weekend, Feudi di San Gregorio's Privilego was served as the dessert wine at an Italian tasting dinner at La Dolce Vita in Beijing.
Made from 100 percent Fiano grapes, the wine is made in the Passito style, in which grapes are partially dried on straw mats or pallets in well-ventilated rooms or barns to concentrate the flavors and sweetness prior to vinification. After three to six months, the semi-dried grapes are gently pressed and the juice fermented until it reaches the desired level of sweetness and alcohol.
An ancient vine of the Roman era, Fiano was renamed "Latino" to distinguish it from Greek origins, says restaurant owner Fabio Falanga. "It is a vigorous vine that prospers well in soils of volcanic origin."
Touted as a good match with pastries, the wine also sparkles when served with well-aged cheeses. Falanga served it with his signature dessert: The Prince, a rum-soaked baba (cake) served with chocolate and hazelnut cream, minced pistachios and strawberries.