Nothing says 'joy of life' like Champagne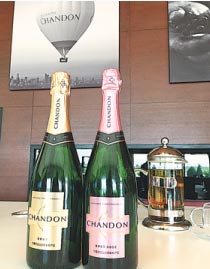 Chandon China's brut and brut rose, made in the champenoise style, are delicious and a great value. [Photo provided to China Daily]
Few words are more synonymous with France and its joie de vivre than Champagne, and plenty of the bubbly will be flowing around the world this week as the country celebrates Bastille Day on Thursday.
The sparkling wine is by definition-and by international regulation-produced from grapes grown in the Champagne region of France, in a demanding regime that includes secondary fermentation in the bottle to create carbonation, and other specific practices and sourcing.
While China has long put French wine on a pedestal, however, Champagne hasn't always enjoyed the prestige and enthusiasm that is accorded to, say, a Lafite Bordeaux.
"I think the Chinese market may have been somewhat misread," says Nicolas Carre, the certified French sommelier who has worked in China for many years. "Chinese drinkers tend to like sweeter wines, and when Champagnes came into China, they were almost always the drier brut types." Those Champagnes have a high effervescence, he adds, which intensifies the acidity of a brut.
"Champagnes ... were basically given away for three years in promotions at KTV centers," he says. That raised awareness of the category and the brands, he says, but it's hard to start asking for a premium price when people are used to drinking something practically for free.
Meanwhile, competitively priced cava from Spain and prosecco from Italy have made fast inroads into the admittedly small but growing market for sparkling whites.
The good news: Whites, sparking wines and roses are all categories that are starting to make a dent in the red-wine category's dominance of the Chinese market-in large part because a growing percentage of wine buyers in the country is younger and female. Experts say these new wine drinkers tend to look for beverages that are lighter and easier to drink than the rich or heavy reds.
・・・
Pink is the word for bubbly in China's Ningxia Hui autonomous region: "Launched in 2014, Chandon Rose is the emblem of Chandon China," says the French-based company's website.
The wine has a delicate pale pink color and fine bubbles that are characteristic of its production using the champenoise method style. (The wine made in China cannot be labeled "Champagne", but it's made exactly the same way as Champagnes in France are.) Champagne can be made with up to three grape varieties: The initial bottling of Chandon Rose in China was a blend of 60 percent chardonnay and 40 percent pinot noir.
Like at many Ningxia wineries in 2015, the grape crop was deemed superior.
"The harvest went very well," estate director Shen Yang told China Daily last fall. "We finished on 16th of September and we are sparkling! Nice summer and little rain for white grapes or PN (pinot noir), so the base wine tastes full bodied and flavored. And we controlled the harvest schedule, which adapted each parcel of chardonnay and pinot noir. This is a good year for sparkling."
I had a chance to visit the tasting room in Ningxia a month ago and have to agree: Both the brut and brut rose are delicious. Perhaps best of all, these refreshing wines are very attractively priced: Around 130 yuan ($19.50) per bottle.
Related:
Jiangsu dishes offer a legacy of rice wine