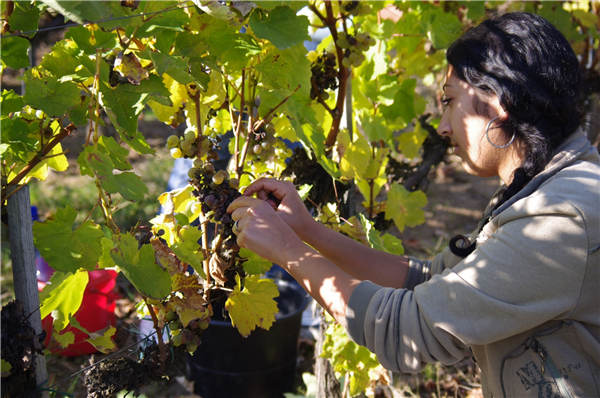 Super-sweet "aszu berries" are carefully picked by hand, as the grapes have been for centuries. Photos Provided to China Daily
Hungary's fabled Tokaj region is pushing hard to bring its famous sweet wines, and intriguing new dry whites, to the global market, Mike Peters reports.
If you believe in medieval legend, I'm about to take a sip of pure gold.
The wine in my glass is the color of saffron, and equally precious. In the days of the Austro-Hungarian empire, this honeyed nectar was so extraordinary that it was reserved for royalty - and mere mortals were convinced it literally had gold in it. Some fortune hunters showed up in the vineyards with shovels.
I'm standing in a tasting room that overlooks a picture-perfect vineyard in the largely rural part of Hungary known as Tokaj. The folks around me are eager to restore the international luster of these classic wines famously enjoyed by Holy Roman Emperor Franz Joseph - and Sherlock Holmes.
"Nowadays, sugar is so common that we are used to it in all kinds of foods, from desserts to bread to barbecue sauce," says Peter Szappanos, CEO of Grand Tokaj. "Back then, this kind of rich sweetness was only to be found in honey and in wines like this - and monks and kings pretty much had control of the production of both."
Grand Tokaj is a recently constituted maker and trader of wines, a state-owned organization that grew out of a chaotic effort to privatize the wine industry in the 1990s. Today the company accounts for roughly 40 percent of the total wine production of Tokaj-Hegyalja, a region declared to be the world's first demarcated wine region in 1737.
Szappanos, a former finance executive, is a modest, down-to-earth guy but his vision is big: "Re-establish Tokaji as the world's most valuable and highest quality wine.