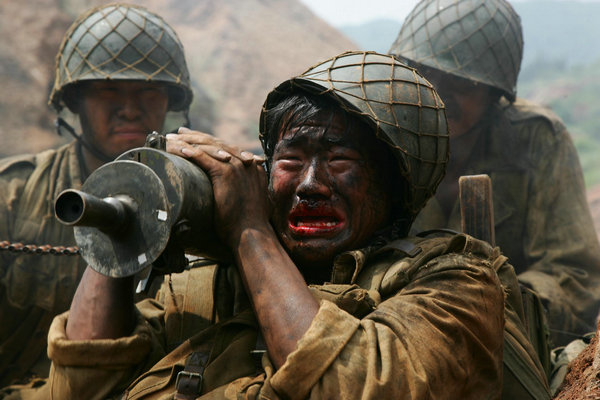 My Chief and My Regiment, one of Wu Yi's best-known productions, tells the story of a troop of Chinese expeditionary soldiers, who defend the front line against Japanese invaders in Myanmar in 1942.[Photo provided to China Daily]
China's most-popular military TV series' producer is fighting for big changes in how the genre is presented on the small screen.
He's arguably the man who brought China its answer to Band of Brothers.
When TV producer Wu Yi brought the 30-episode series Soldiers Sortie to the small screen in 2006, he had little inkling it'd become one of the Chinese mainland's most-celebrated military dramas. It's still widely acclaimed as such.
Soldiers Sortie follows Private Xu Sanduo-a shy village boy sent to the army by his father in order to make a man out of him. He grows through perseverance from his entry into a People's Liberation Army mechanized-infantry unit until he becomes a core member of an elite force.
"I'm not boasting," Wu says, sighing.
"I regret no other military drama has reached this level over the past decade."
Soldiers Sortie has 9.1 out of 10 points on China's major film-and-TV criticism website, Douban.com, making it the highest-ranking Chinese military TV series ever. It has 8.1 points on Douban's US-based equivalent, iMDb.com.
Wu adores military themes, although most of his ongoing projects are about urban romance or Qing Dynasty (1644-1911) legends.
"Attitudes decide what's produced," he says.
"We must venerate our audiences."
Wu is calling for a rejuvenation of the genre. He's president of the Tianyi Media group behind many military dramas.
He's bothered by how the genre is often presented. For instance, the proliferating productions portraying the War of Resistance Against Japanese Aggression (1937-45) seem to exaggerate Chinese fighters' bravery while depicting Japanese soldiers as buffoons.