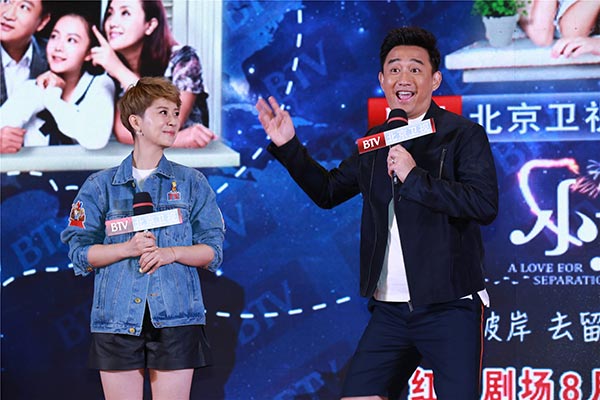 Lead actor Hai Qing (left) and Huang Lei promote the upcoming TV series A Love for Separation. [Photo provided to China Daily]
Television series –
A Love for Separation
– that dwells upon increase in number of Chinese students striving for abroad studies, is set to foray into the small screen on Aug 15.
Set in China's financial capital Shanghai, the 30-episode TV series features three different families and narrates the psyche of parents, who are compelled to accept separation from their children for the sake of better education.
According to the statistics, out of 500,000 Chinese students who left the country for studies in 2015, around 14 percent were middle school teenagers. "And 90 percent of students did not have scholarship," director Wang Jun says.
Wang says, the phenomenon prompted him to take up such subject matter.
"Moving abroad for studies has become a common option for common families. However, such families are bound to face huge economical stress apart from mental depression," Wang says, adding that the series will connect with numerous Chinese families
Apart from small-screen stars Huang Lei and Hai Qing, the series features veteran actor Zhu Yuanyuan, and singer-actor Wang Junkai, a member of the popular Chinese teenager band TFboys.
Addressing the conference, Huang, in a different note, says he won't force his children for studying abroad. Huang, a father of two, says he won't encourage his daughters to leave home before 18.
"For me having a personality is important than good score. I believe happy and easy childhood would be more useful for her life," he says.
Related:
'The Spirit of Soldiers' aims to break stereotype
Wartime romance hit on Chinese TV