On this day, 10,000 roses are just for starters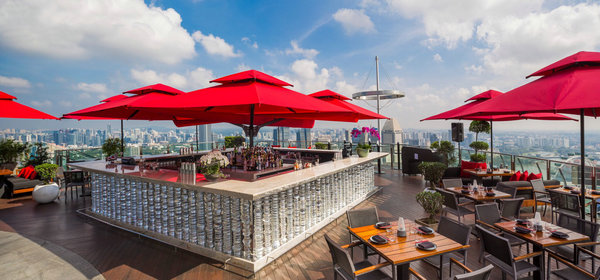 An 18-course menu is offered at sunset in the 57th floor penthouse of the Marina Bay Sands Hotel in Singapore for special occasions like Chinese Valentine's Day.[Photo provided to China Daily]
Most of us have slightly more modest plans for this Chinese Valentine's Day (Qi Qiao Jie), but when love can command a $2 million price, Tuesday might be a good day to fly to Singapore to enjoy a Rolls-Royce Phantom, a penthouse and the world's most expensive dinner at Ce La Vie.
With that kind of dough and a song in your heart, you'd get a chauffeured drive in the Rolls, a scenic 45-minute helicopter ride over Singapore, a luxury private cruise and a modern Asian degustation dinner-an 18-course menu-served at sunset in the 57th floor penthouse of the Marina Bay Sands Hotel. The dinner package can be reserved year-round for any occasion.
This sanctuary comes "with the sight and scent of 10,000 fresh roses set against breathtaking 360-views", says the already breathless press release.
What would you be eating in candlelight with your $17,000 diamond-studded chopsticks (engraved with your names, and of course you get to keep them)?
The menu starts with fresh Belon oyster with Champagne foam, Almas caviar, Jamon Iberico, Gewürztraminer-poached foie gras, veal liver, lamb sweetbread, bresse-poulet consomme, striped seabass, air-flown Alaska wild salmon, Verjus sorbet, slow-cooked pigeon, Glenvale pork loin and apple-wood grilled Mishima sirloin. The menu is paired with some extraordinary wines, including 44- and 55 -year-old vintage wines, 1961 Chateau Haut-Brion and 1972 Oremus Tokaji Aszu 5 Puttonyos.
It's all about celebrating the 15-year anniversary of the Russian diamond giant World of Diamonds Group.
Karan Tilani, director of the World of Diamonds Group, states, "Ce La Vi is a diamond in the sky. This could be the ultimate proposal, an exceptional occasion, or simply a celebration of life".
What could make all this even better?
How about a beyond rare 2.08 carat Fancy Vivid Blue diamond ring, named for the actress Jane Seymour, presented in a delectable savory.
It's part of the deal -- valued around $2 million by itself.