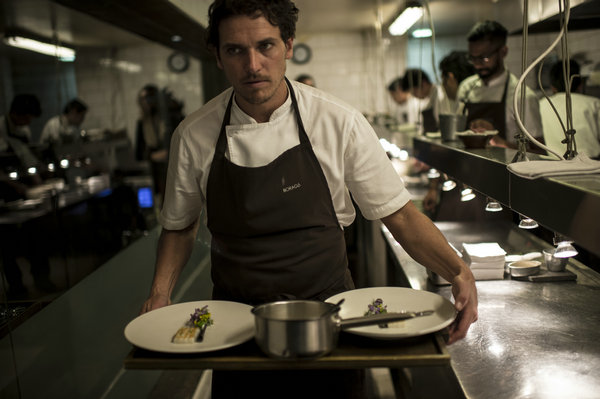 Chilean chef Rodolfo Guzman works in his kitchen at Borago restaurant, considered the second best in Latin America, in Santiago. Borago restaurant was opened 10 years ago in Santiago and it is a must for gourmets from around the world who come to 'live a gastronomic experience'. [Photo/ Agencies]
Chef Rodolfo Guzman uses local ingredients to create a new, indigenous haute cuisine
Chef Rodolfo Guzman is hunting amid the rocks on a Chilean beach for the ingredients that have made his restaurant all the rage: algae, sea creatures and other marine delicacies.
Beaming, he plucks one of the season's last "sea figs," a rare fruit that resembles a savory strawberry, and holds it up to be admired.
"We wait all year to have this fruit for a month," he says.
This is one of hundreds of ingredients from the ocean and coastline that feature on the menu at Guzman's restaurant, Borago, which opened in 2006 in the suburbs of the Chilean capital Santiago.
Last year it became the first Chilean establishment to break into Restaurant magazine's list of the world's 50 best, coming in at 42. It was also runner-up on the list of best restaurants in Latin America, second only to avant-garde Peruvian favorite Central.
Continuing his stroll, Guzman comes across a string of local delights with unusual names: beach chard, sea parsley, rock clovers, sea asparagus.
The 38-year-old chef puts these halophiles - plants that grow in salty environments and need little or no soil - at the center of his culinary creations.
The plants have salty flavors and, on average, 38 percent protein, the same amount as fish, he explains with pride.
"These plants are very important for us. They have a truly incredible flavor," he says.
Culinary revolution
Collaborating closely with biologists, anthropologists and mycologists, or fungi specialists, Guzman has set himself a bold goal: to research and promote Chile's endemic plant life while using it to create a new cuisine.
His menu features celebrations of local ingredients ranging from "Araucania region pine nut chocolates" to "guanaco jerky," made with the meat of a llama-like wild animal.
Tasting menus at the restaurant, which is located in the swank Santiago suburb of Vitacura, range in price from $60 to $90.
Guzman's vision of Chilean cuisine is helping bring it out of the shadows of its neighbor Peru, a darling of restaurant critics worldwide, by rediscovering traditional flavors and embracing the nation's indigenous Mapuche roots as a guiding influence.
"We're just starting to realize that because of our unique geography we have a diversity of products that can make a great contribution to developing innovative, sustainable cuisine," said Myriam Gomez, the head of a foundation that is promoting Chilean cuisine internationally.
Chile has nearly 4,700 kilometers of coastline, and ecosystems ranging from the world's most arid desert to the glacial climes of Patagonia, at the southern tip of South America - giving it a wealth of biodiversity.
That includes 750 species of seaweed or algae and 30 different edible mushrooms, many of which can be found in Guzman's kitchen.
Back to roots
"The best is yet to come, because the number of ingredients is going to expand in an incredible way," said Guzman, who sources his products from a network of 200 local providers.
Some of his favorite ingredients can be found only in Chile, such as "dihuenes," golf ball-like mushrooms that grow in the south in springtime, or enokis, a mushroom he sautees and serves with vegetables.
"Our cuisine is going to be transformed into something really interesting, because these ingredients are unique in the world," he said.
His colleague Axel Manriquez, the executive chef at the Hotel Plaza San Francisco in Santiago, has also begun serving up dishes with native ingredients in starring roles.
"These days we chefs are looking to that old home-style, family cooking, but giving it added value with these products that have always been here," he said.
Fellow chef Paula Larenas of the culinary institute Inacap said it is part of a worldwide culinary trend of going back to one's roots.
"This generation is returning to the past, to respecting the recipes of our grandparents and ancestors," she said.