Aiming to go global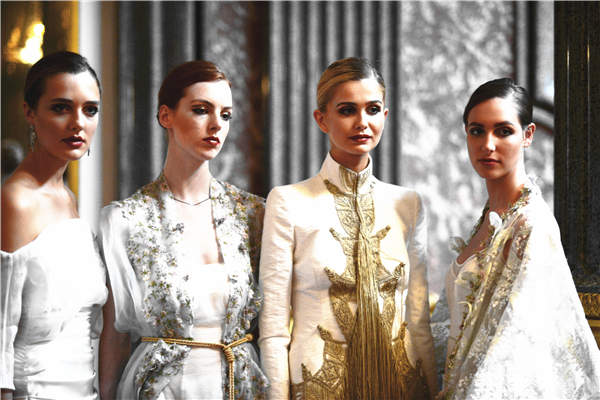 Models wear creations by Grace Chen during a runway show in Lancaster House in London in June. Photos by Eliska Kyselkova/Seth Powers/Anton Phatianov, Provided to China Daily
Chinese-American Grace Chen has been offering women in China clothes that blend glamour, authoritativeness and cultural identity for years. Now she wants tomake a bigger impression. Sun Yuanqing reports.
For China's political and entrepreneurial women elites, it's not easy to find a look that balances glamour, authoritativeness and cultural identity. But for years, Chinese-American couturier Grace Chen has been offering just that. Well-known among the well-heeled, Chen is now making a bigger splash both in China and overseas.
Earlier this month, Chen opened The House of Grace Chen in Shanghai.
Located in a heritage villa built in the 1920s in Shanghai's former French Concession, the three-story mansion designed by Italian firm Kokaistudios incorporates a showroom, fitting salons, an art gallery, a library, a fashion lounge and a VIP suite.
It also displays all of Chen's previous collections, including her Little Red Dress from 2013, Little Romance from 2014 and Little Story from 2015.
"This is not just a physical space. It's a sharing space for people who have the same tastes and ideas," says Chen.
Following her shows in Paris, Moscow and Brussels, Chen held a runway show in Lancaster House in London in June, as part of the celebrations of the 90th birthday of Queen Elizabeth II.
The show saw more than 40 gowns presented by professional models, socialites and aristocrats, a runway tradition for the Grace Chen brand.