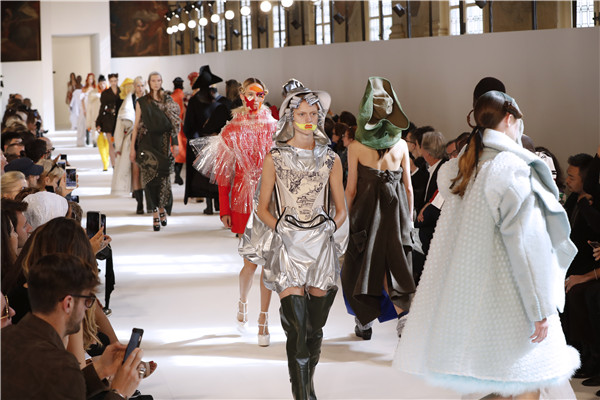 Models present creations for Maison Margiela during the 20162017 fall/winter Haute Couture collection fashion show in Paris. [Photo by Francois Guillot/AFP]
Maison Margiela, Valentino and Saab wow the catwalks.
Paris couture week reached a creative climax Wednesday with strong showings from Maison Margiela, Valentino and Elie Saab.
Here are some of the highlights of the last of the fall-winter 2016 collections.
Maison Margiela
John Galliano continues to raise the profile of Maison Margiela.
In Wednesday's ever-creative show, the Gibraltar-born Briton went one step further in stamping the unique brand of Galliano Romanticism on the once-minimalist house.
These styles and artistry have been sorely missed on the couture calendar ever since the designer was deposed from the creative helm of Christian Dior in 2011, when an anti-Semitic rant by him was captured on video.
Abstractions based on Asian styles opened the show in a dropped wrap-around style Chinese red jacket with huge limp tubular arms.
It was, of course, worn with black stripper boots. But this is Galliano: the kinky boots, with purposeful irony, could well have been mistaken for a fisherman's wading boots - a detail that parodied the note of sensuality with panache.
Styles were eclectic, but held together by the sheer theatricality and exuberance of the soft lines of the silhouette.
The fashion industry's model-of-the-moment, Anna Cleveland, was included in the fashion musing to no surprise, and was deservingly given one of the most archetypal looks. She prowled with signature dramatic confidence and an exaggerated look of horror down the runway in a Napoleonic hat, with a voluminous 19th-century coat.
It prompted many a smile from the front row.
Judging by the maison's financial buoyancy since last year, the 55-year-old Galliano can proudly boast not only creative success in womenswear but a commercial one as well.