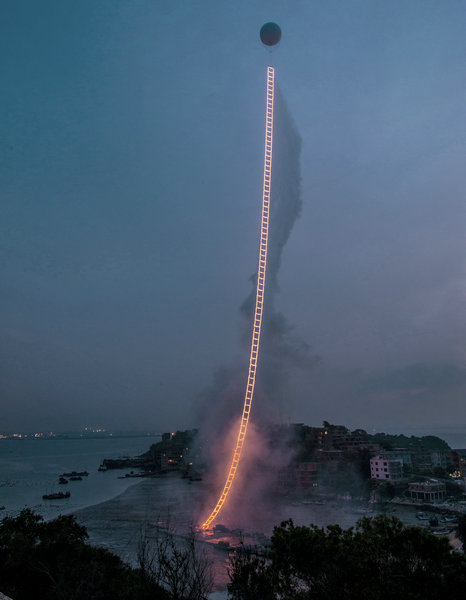 Sky Ladder, an explosion installation work by Cai Guoqiang, is shown in a video at an exhibition hosted by Minsheng Art Museum in Beijing.[Photo by Cai Studio/ China Daily]
Contemporary art is becoming popular in China on an unprecedented scale.
Nearly 3,600 exhibitions were held in the country last year, with March 21 being the busiest day with 61 such shows, according to the Center for Visual Studies, a Peking University affiliate dedicated to the study of traditional and modern culture.
The center has published the Annual of Contemporary Art of China for the past decade. It catalogs the events, artists and artworks for each year. Since last year, it has cooperated with Beijing's Minsheng Art Museum to present an exhibition that displays a selection of artworks featured in the journal.
A second exhibition based on the report is now being held at the same museum through Aug 22. It shows paintings, sculptural installations, videos and performance art by 36 creators mentioned in the journal for 2015. The first exhibition was held last year, reviewing works from the previous year.
Seeing how the participating artists worked last year, one can picture the emerging trends in contemporary Chinese art.
The video Sky Ladder, exhibited this time, records an explosion lasting over 2.5 minutes created by well-known artist Cai Guoqiang over Huiyu Island not far from his native Quanzhou city, in East China's Fujian province, at dawn in June 2015. For this, a massive helium balloon was attached to a 500-meter-long "ladder" laced with gunpowder, which turned into a soaring fire dragon in the sky when ignited.
Cai, 59, a New York-based artist who designed the fireworks display for the opening of the Beijing Olympics in 2008, says the project embodies his childhood dream of "building a permanent ladder to communicate with the universe". He says the ceremonial process also shows his love for China, which he left more than three decades ago.
"It (the project) marks a return to my original point, and it means a new start," says Cai.
Similar feelings for family ties are expressed through Beijing-based artist Song Dong's Barcode No 1, an installation made from used wooden window frames of different colors. It was part of his solo show, Surplus Value, at Pace Gallery Beijing last year when he displayed works made of old household items stored by his parents for several decades.
Song recycles objects in his art also out of respect for his parents.
"They didn't keep these things for themselves but for us, their children, in case we might need them in the future."