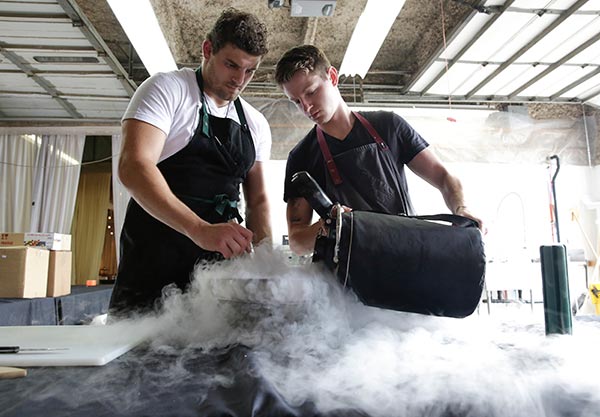 The Herbal Chef CEO Chris Sayegh (left) and assistant chef Michael Monteleone use liquid nitrogen to create a Froot-Loop-flavored dessert at an event in Tacoma, Washington. [Photo/Agencies]
Christopher Sayegh holds up two syringes filled with cannabis compound, primed to pump tiny amounts into a pomegranate sorbet, or a juicy cut of Wagyu Japanese beef as part of a bold new sensory experiment.
As more US states move to legalize the use of recreational marijuana, the California chef is aiming to elevate haute cuisine to a new level.
Armed with cooking skills acquired while working at Michelin-star restaurants in New York and California, Sayegh says his mission is to redefine haute cuisine with cannabis-infused meals that are becoming increasingly popular as the stigma surrounding marijuana gradually evaporates.
"I am trying to give people a cerebral experience," Sayegh, 24, said during a recent interview at The Herbal Chef, his Los Angeles-based company.
"But I'm also really careful in how I take them along on this journey."
Sayegh's foray into edible cannabis comes as more and more entrepreneurs look to capitalize on a new gold rush in California which is set to vote in November on legalizing recreational marijuana for adults 21 and over.
Five other states, including Alaska, Colorado and Washington, have already adopted similar legislation and more are expected to follow suit as cannabis moves out of the shadows and becomes more mainstream.
Medical cannabis use is allowed so far in 23 states-including California-and that number is expected to grow, despite the fact that at the federal level the product remains illegal.
According to the Arcview Group, a cannabis investment and research firm based in California, legal sales of marijuana in the United States reached $1.2 billion in 2015, a 232 percent increase over the previous year.
By 2020, sales are expected to surpass $22 billion, the group said in a recent report, with California making up $6.4 billion of that market.