When race matters on the screen and stage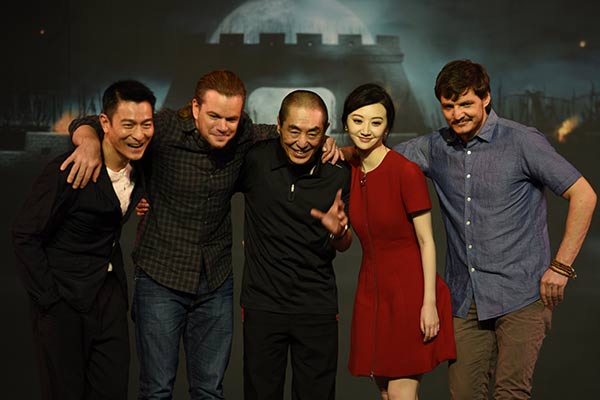 Zhang Yimou (center) with the cast members of The Great Wall at a Beijing event in 2015. The star-studded cast includes (from left) Andy Lau, Matt Damon, Jing Tian and Pedro Pascal. CFP
Whether the casting is historically accurate or racially blind, Hollywood screen choices will be dictated more by market forces.
The release of a trailer for the upcoming Zhang Yimou film, The Great Wall, has whipped up a storm that centers on its casting choice for the lead role. The trailer opens with Matt Damon and, even though it squeezes in many of the big stars in its lineup, the Hollywood actor remains the marquee name.
Of the immediate reaction, some in China felt slighted that a big Chinese film would have an American as the male lead. Actually, this is more of an American film that hired a Chinese director and set the story in China.
But the Chinese response was obviously less about the film, which nobody has seen, than about the sentiments left over from the recent South China Sea arbitration.
Across the Pacific Ocean, Asian-Americans also protested over this casting choice. I can totally understand why they have reacted so strongly because they are fighting for job opportunities.
A similar controversy erupted in the 1990s when the mega-musical Miss Saigon moved from London to New York. Asian-American artists felt they were shortchanged when the male lead, a Eurasian role, was given to a Caucasian actor.
The level of racial sensitivity varies from country to country when it comes to screen or stage casting, and it varies from era to era.
On the Chinese screen, Han Chinese have played Tibetan roles all the time, and in recent years as more Tibetan talents have emerged they have also taken roles that are 100 percent Han. There is no political innuendo whatsoever. It is usually the style of the film that determines whether casting should be racially authentic.
On the Chinese stage, we have always resorted to the practice of "white face"-Chinese actors putting on a fake big nose and other makeup to pretend to be Caucasians. Chinese dancers also paint their skins black to perform African dances. There is no mockery or caricature involved. And that's why most Chinese would not bat an eye when they hear Asian-Americans protesting "yellow face" (white actors playing Asian roles).