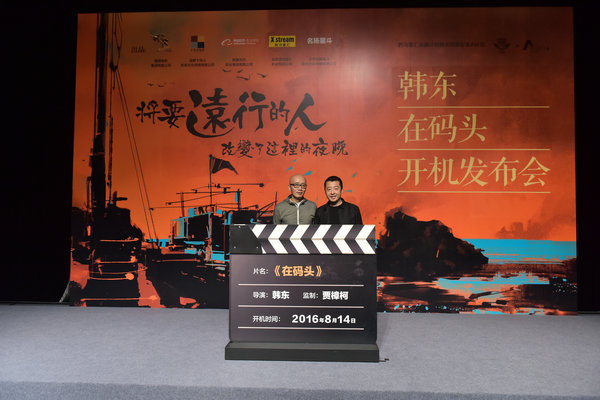 Author Han Dong (left) will make his directorial debut among projects launched by Jia Zhangke (right).[Photo provided to China Daily]
Another writer has chosen to step into the booming film market. This time, it is Han Dong, a 55-year-old poet and novelist based in Nanjing, capital of Jiangsu province.
He recently announced in Beijing that shooting of his directorial debut will begin next week.
As a newcomer to the industry, he is lucky to have Jia Zhangke, an art-house film veteran best known for the award-winning Still Life, backing him as executive producer.
The screenplay for the upcoming film Zai Matou (On the Pier) is adapted from Han's 1998 novella of the same name, which depicts poets' disputes with hooligans with a touch of black humor.
"It was not only me. Others, too, wanted to turn the novella into a movie after they read it," says Jia.
"I even found a German producer who was prepared to fund the film. But he went bankrupt before the shooting began."
But Han says: "I had three choices: To maintain my fame as a poet, to retire, or to try something new.
"I preferred the third option. A person today can experience different things within a lifetime.
"I am walking on thin ice. But I have confidence."
Han first gained a reputation as a pioneer in the 1980s' poetry movement with his exploration of poetry theory. Then, he advocated the importance of being colloquial in poetry. After 2000, he switched his focus to novels.
Though Han's only previous link with cinema was being a guest star in films, including Jia's A Touch of Sin in 2013, Jia does not consider his lack of experience as an impediment.
Jia says: "Han is good at capturing trivial moments in daily life with a poetic touch.