Exploring Beijing's drip coffee scene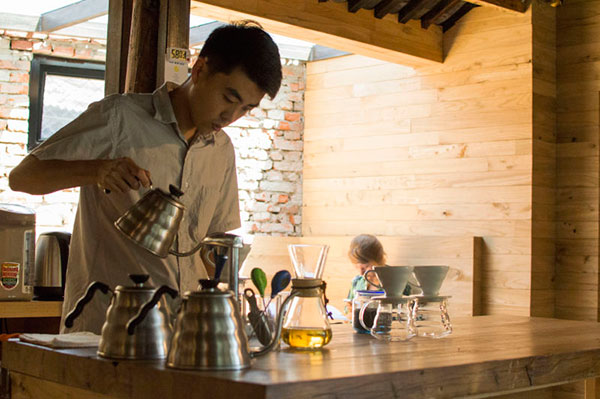 [Photo by Ian Callison/chinadaily.com.cn]
I have an addiction to coffee.
Back home in the States, my daily routine consisted of at least two cups of coffee a day. Without it, I'm exhausted, get headaches, and generally unproductive.
But coffee is more than a commodity to me. I genuinely love it. Drinking and brewing coffee is something of a hobby for me.
Expecting coffee to be hard to find in Beijing, I tried to wean myself off of my reliance in the weeks preceding my trip. As I had understood, the prominence of tea replaced the role of coffee here in China, and so I landed in Beijing expecting java to be hard to find.
To my surprise, however, the coffee industry is experiencing rapid growth in China. Coffee franchises, from Caffe Bene to Costa Coffee are setting up shops across the country, and, though the tea industry is far from fading, it suggests a rise in coffee's popularity.
Coffee culture in Beijing, however, is quite different than it is elsewhere. In China, coffee isn't a commodity, but rather a social experience. Starbucks has designed their interiors large and comfortable to encourage drinkers to stay and socialize, seemingly opting out of the grab-and-go stalls found across the USA.
There's more, though. Not only is the environment of these familiar franchises different, but the menus vary, too. I was shocked when I visited a Starbucks on Huixin Dongjie and they didn't have coffee.
Okay, that's not entirely true. Let me amend that: they had coffee options available, including some unique Chinese variations on the frappes and lattes. All of this particular location's coffee options were espresso based, however. Don't get me wrong, espresso is definitely, very much coffee.
In the United States, however, one of the most common drinks is straight coffee. No espresso, but simple coffee made in a drip filter. There are huge degrees of variation within straight coffee, from Folger's brewed on an old-school pot to my favorite, specialty coffee brewed in pour-over fashion.
After walking out of that Starbucks with an Americano (which, interestingly, is a drink that originated in Europe and is relatively uncommon in the States) I made it my mission to find some of Beijing's best coffee shops.
So, for those of you looking for coffee in its form, whether you're a long-time drinker or looking to try something new, here are five coffee shops (ranked in no particular order) in Beijing worth trying.