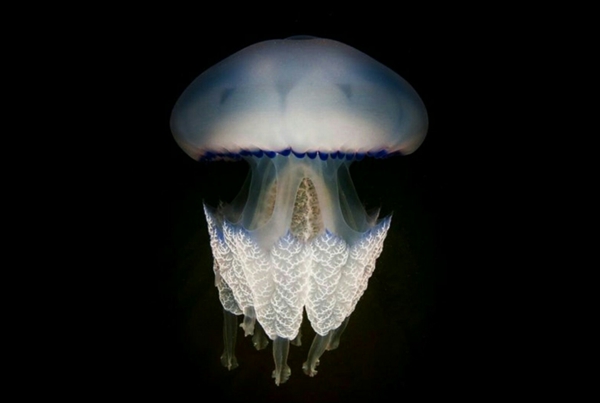 Jellyfish Planet by Empty Lab, video, 3m27s, 2016 [Photo/cs.com.cn]
A 10-day visual arts exhibition, Migration, Stratosphere and Super Tech Creativity, opened at the SZ Art Center in Beijing's 798 Art District on August 13. As the name suggests, it is composed of three subjects. Migration concerns the vitality of traditional culture, Stratosphere explores the mysterious space and Super Tech Creativity focuses on endless possibilities thanks to scientific breakthrough.
It is the second major event during the ninth China International Youth Arts Festival, displaying works of artists and art groups from mainland China, Taiwan and Japan. They are COSY, Chen Yichun, Kondoh Akino, Empty Lab, Liu Xinyi, Li Yuanchen, Tian Xiaolei, Zhang Zihui, and Zhen Jing.
Funded by the China National Arts Fund (CNAF), the exhibition was the brainchild of Wu Qiuyan, a renowned space-medium artist and exhibition planner. It was co-organized by CICA and Beautiful Asset (Beijing) Art Industry Co. Ltd., with the help of CIEABA and SZ Art Center.