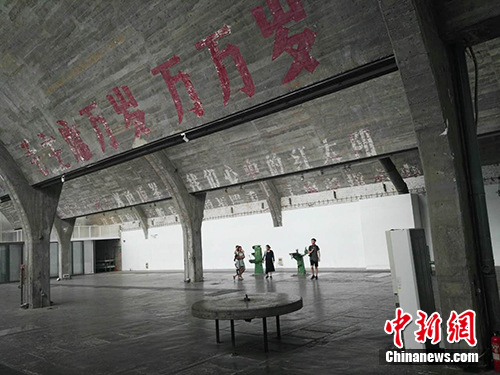 A gallery in Beijing's 798 Contemporary Art Zone.[Photo/Chinanews.com]
 Perhaps the history of Beijing's 798 Contemporary Art Zone will not be long.
Transformed from electronic manufacturing plants, the art zone was built on the basis of some modern Chinese artists' ideas at the beginning of the new millennium.
The idea to possess an environment for modern art in 798 was popular among contemporary artists from both home and abroad and the area grew quickly.
But gone are the days when the Beijing 798 Contemporary Art Zone was a popular tourist site. In the past few years, artists have moved out of the zone one after another, leaving their galleries and studios in the hands of cafés, restaurants and souvenirs store owners, putting an end to the zone's golden age.
A recent reminiscent exhibition commemorating the birth and changes of 798 Contemporary Art Zone (2002-2006) is now on display.
The idea to create arts around the deserted factory used to be very inspiring for artists, said Fang Lei, the exhibition's curator.
The development of the art zone reached a pinnacle in 2005 when the old electronic plants embraced galleries such as Galleria Continua, the Beijing Commune and the Tang Contemporary Art, as well as bars, restaurants and fashion workshops.
A lucrative industry, the conversion of the old factory into a modern art center drew enormous interest from investors, who started to open merchandise stores inside the zone, breaking the tranquility and expanding commercial influence beginning in 2007.
Du Xiyun, another curator of the exhibition, said the capital market swiftly overran the 798 Contemporary Art Zone, driving up the rent prices and changing the color of the rebellious contemporary art scene.
"The zone now has nothing to do with arts," said Zhao Xiaomeng, a media liaison of the Pace Gallery. "The space available there is rarely used for arts, and the artists who were once there almost all left the zone."
The cafes and small business vendors have dissolved the artistic air of the zone, Fang said, saying it was a pity to see a contemporary art scene which influenced the aesthetic flavor of the country in the past 10 years start eroding due to commercialization.