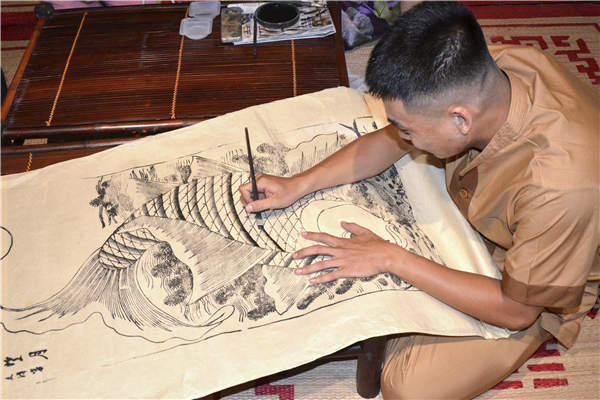 An artisan makes a Hang Trong painting at the ongoing exhibition at the Hanoi Museum. [Photo/Xinhua]
Visitors to Hanoi can now see 12 genres of Vietnamese folk paintings at an exhibition at the Hanoi Museum. More than 200 works from well-known painting genres such as Dong Ho, Hang Trong and Kim Hoang are on show.
The exhibition, which opened on Friday, aims to showcase Vietnamese traditional folk paintings to domestic and foreign visitors, the organizers say.
According to Nguyen Tien Da, director of the Hanoi Museum, traditional folk paintings display a community's unique cultural characteristics.
Speaking of the challenges facing the art form, he says: "The question of how to combine traditional and modern art needs thorough consideration and investment in order to nurture awareness among the young about the preservation of ancestral cultural features."
Truong Quoc Binh, former director of the Vietnam Fine Arts Museum, says as the nation's socio-economic situation changes, many types of traditional folk paintings are on the verge of disappearing.
The demand for traditional folk paintings has also decreased, which has forced craft villages and artisans to seek other jobs, says Binh.
For instance, Dong Ho paintings were once among the "must-have" things during the lunar New Year festival, or Tet as it is locally known, for worship or decoration purposes.