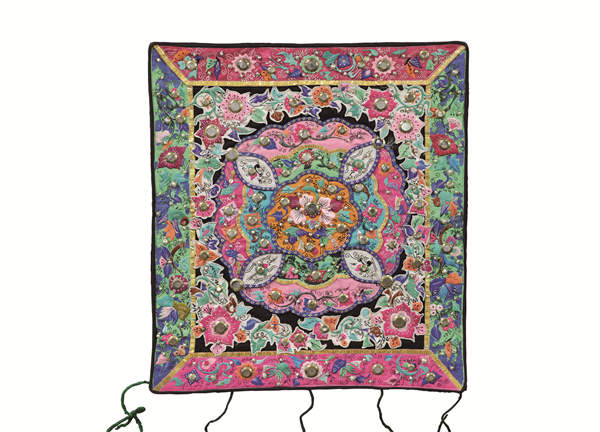 The ongoing exhibition Attachment to the Hometown presents around 150 baby carriers of different ethnic groups. [Photo provided to China Daily]
A handicraft show at the National Art Museum of China is displaying pieces of fabric lovingly embroidered by women from the country's south. Lin Qi reports.
Between the soaring, lush mountains in Southwest China are the villages of ethnic groups where women pass down exquisite embroidery traditions through generations. Among the many items they produce is the bei shan or baby carrier.
Women use colored threads to create a variety of patterns on a piece of indigo-dyed fabric to make it.
They use the carrier, which has two straps, to swaddle their babies and carry them on their backs when farming, doing housework or going to the fairs and socializing.
The carrier, which protects the new lives, has significant meaning for those living a difficult life in the remote mountainous areas where they face natural disasters, threats from wild animals and diseases. Also, it showcases different ethnic cultures through the stitching techniques that girls from the different communities learn.
The creativity of these women is being celebrated at a handicraft exhibition called Attachment to the Hometown at Beijing's National Art Museum of China.
The exhibition has around 150 baby carriers from eight ethnic groups, including the Miao, Dong, Shui and Yi, from Guizhou, Hunan and Yunnan provinces as well as the Guangxi Zhuang autonomous region.
The earliest carriers on show were made in the late Qing Dynasty (1644-1911) while the latest are from the 1980s.