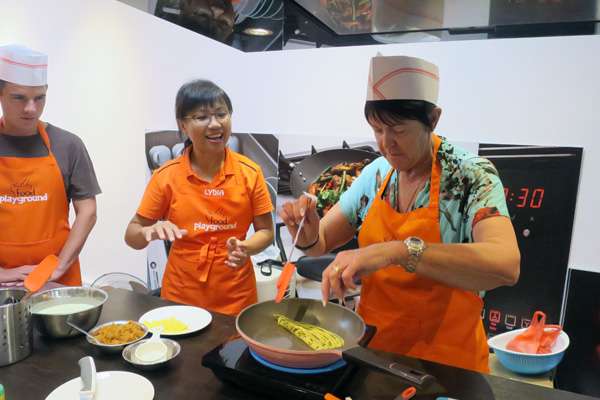 Lydia Soh (middle) in the middle of a culinary class at Food Playground. [Photo provided to China Daily]
From Peranakan food, to curry fish head, the island nation's culinary offerings are linked to its immigrants
"The history of food in Singapore is inextricably linked to the country's immigration history," says Allan Lim, a Singaporean entrepreneur.
Lim was sitting at Indocafe - the white house, a restaurant located at 35 Scotts Road which specializes in Peranakan food, developed by the offspring of 15th century Chinese immigrants and the local island population.
"According to legend, a Ming Dynasty (1368-1644) princess Hang Li Po was sent by the then Ming emperor to marry the Sultan of Malacca around the mid-15th century," says Lim.
"After that, Chinese immigrants arrived in Indonesia and Malaysia, blending in with the locals through marriage. Their descendants were known as Peranakan Chinese - boys were called Baba and girls Nyonya - and the hybrid culture they spawned is referred to as Peranakan culture."
These days the word Peranakan has an antiquated ring to it. Yet, for those who are interested, there's one place where the tradition is alive and well outside of a museum. It's on the menu.
"Cooking to satisfy two unique and distinct cultures is an art. Nyonya cooking demands a mother's love and constant tweaking of each ingredient's proportion to ensure perfect taste," says the restaurant's website.
Diners can sample the rich flavors and fragrances by ordering steamed "Chawanmushi" egg custard with fish fillet seasoned with coconut milk, herbs and spices.
Another highlight is slow-cooked wagyu beef cheeks in a special blend of spices, ground using traditional mortar and pestle.
With Singapore being an island country, seafood dominates the menu. Worth trying are the stir-fried fresh squid with a sambal spice blend, as well as crispy "Top Hat" pastry cups with shredded turnip, served with prawns and crabmeat.
The dining experience is enhanced with a beautifully crafted ambience complete with mood lighting, plush furniture and a wall display of the restaurant owner's collection of Peranakan antiques, including authentic Nyonya clothing whose accentuated femininity has been embraced by Singapore Airlines in dressing their own stewardesses.