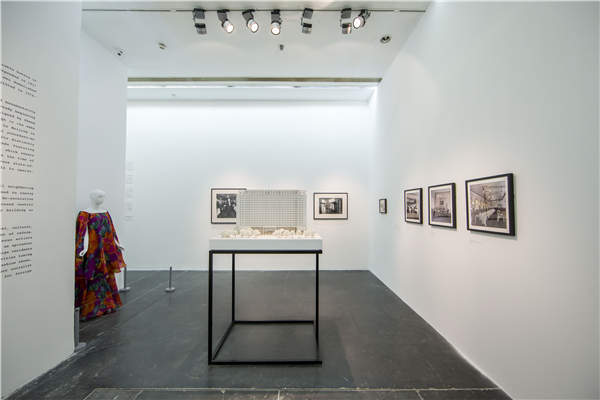 Photos, building models and a dress designed by Italian-born French fashion designer Pierre Cardin are displayed at an exhibition reviewing China's construction of international hotels in the 1970s and '80s. Photos Provided to China Daily
High-rise buildings that dominate the skylines of major Chinese cities such as Beijing, Shanghai and Guangzhou include well-designed luxury hotels that passers-by take for granted.
But in the eyes of Cole Roskam, an associate professor of architectural history at the University of Hong Kong, these skyscrapers started to grow since the 1970s and '80s, during which time the construction of several international hotels helped China to connect with the rest of the world and provided physical evidence of the reform and opening-up.
And, Roskam's interest in China's international hotels of those two decades isn't only academic. He is now co-hosting in Beijing an exhibition, Accommodating Reform: International Hotels and Architecture in China, 1978-1990, which is being held at the Ullens Center for Contemporary Art through Oct 23.
The exhibition reviews the birth of seven landmark hotels - some among the earliest Sino-foreign ventures established at the start of reforms. They stand as examples of the phenomenal development of five-star hotels to accommodate increasing foreign visitors for tourism and business in China in the 1970s and '80s.
A display of photos, building models and relevant documents offer a behind-the-scenes look at their cultural, economic and political relevance.
The east wing of Beijing Hotel, Jianguo Hotel, Great Wall Hotel and Fragrant Hill Hotel make for the four Beijing hotels featured in the show. The remaining are the Shanghai Centre, Jinling Hotel in Nanjing, East China's Jiangsu province, and White Swan Hotel in Guangzhou, South China's Guangdong province.