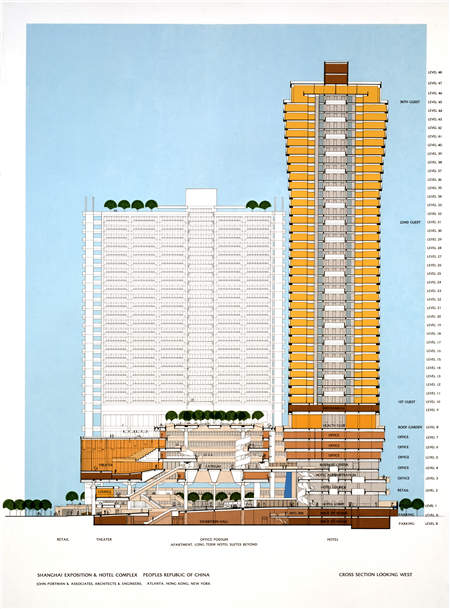 A sectional drawing of Shanghai Centre designed by the international architectural firm John Portman & Associates.
"In general, they present a nice array of buildings in different cities designed by different architects," Roskam tells China Daily.
He says many such hotels in reform-era cities were designed by famous foreign architects and became tall, monumental buildings at the time of construction. The hotels also introduced the concept of modern architecture to China. The buildings were facilitated with more advanced technologies than others back then.
Chinese architect Zhang Bo designed Beijing Hotel's east wing that was completed in 1974 and it features a grid facade with balconies overlooking the Chang'an Avenue. Renowned Chinese-American architect Ieoh Ming Pei drew on his childhood memories of the elegant gardens of Suzhou, Jiangsu province, while designing the Fragrant Hill Hotel, which blends with the surrounding Fragrant Hills Park in Beijing's northwestern suburb.
Roskam says glass-curtain walls were first displayed in China in such hotels, and amenities like TV sets, air-conditioning units and elevators influenced the country's industrial development later.
Symbolizing China's opening up to the world, the hotels for the first time in the country had foreign restaurants, bars and discos. They also hosted cross-cultural activities and accommodated many celebrities and dignities.