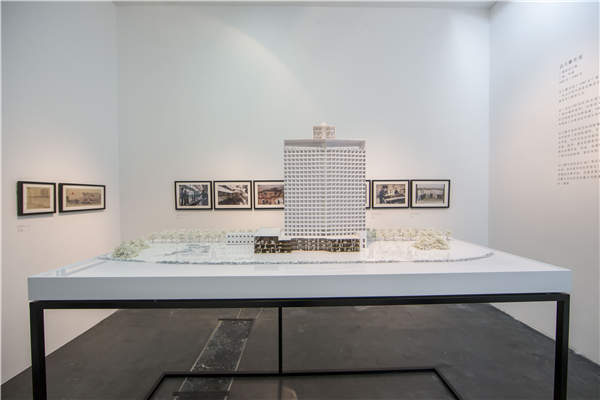 [Photo Provided to China Daily]
Jianguo Hotel attracted customers with Beijing's first French restaurant, Justine's. It's first-floor rooms were where many international banking representatives resided and became popularly known as the "Wall Street" of Beijing.
American cultural icon Andy Warhol and his photographer friend Christopher Makos stayed at Beijing Hotel during their travels in the country in 1982. The photos taken during their trip that captured the interior decorations of the hotel and the Fragrant Hill Hotel they also visited are also displayed at the exhibition.
In 1981, Beijing Hotel witnessed the country's first public fashion show since the founding of New China in 1949. It was staged by Italian-born French fashion designer Pierre Cardin who was among the first foreign businesspeople to land in the country in 1978. A dress that was shown at the couture show is displayed along with a photo taken by Chinese-American photojournalist Liu Heung Shing showing Cardin at the opening of Maxim's Beijing restaurant in 1983.
Robert Rauschenberg stayed at the Great Wall Hotel in 1985 when holding his retrospective show at the National Art Museum of China. His second solo exhibition since then, titled Rauschenberg in China, is also underway at the UCCA.
Roskam says many Chinese have fond memories of the hotels. When he interviewed some who had worked in them or lived nearby, they mostly spoke of how "groundbreaking" the hotels were.
"They (the hotels) are valuable reminders of how important tourism and foreign businesses were to China's economy after 1978. They are also vital reminders of how quickly China has developed," he says.