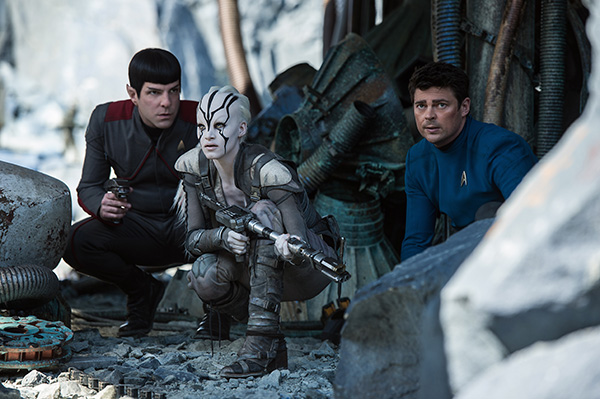 Star Trek Beyond, the 13th title in the Star Trek movie series, will premiere on Chinese mainland theaters on Sept 2. [Photo provided to China Daily]
Chinese fans were screaming "Live long and prosper" as the cast of
Star Trek Beyond
(
Trailer
)made the iconic Vulcan hand gesture in the Indigo shopping mall nestled in downtown Beijing on Friday.
Fifty years after the science-fiction franchise was created, "Captain Kirk" and "Commander Spock" were in the Chinese capital to fan interest in an upcoming sequel.
Among the stars on tour are Spock's human girlfriend "Lieutenant Nyota Uhura", and the spacecraft USS Enterprise engineer "Montgomery Scott", and the film's director Justin Lin.
Star Trek Beyond, the 13th title in the Star Trek movie series and the third installment of the rebooted franchise since 2009, will open in mainland theaters in the 3-D, IMAX 3-D and DMAX formats on Sept 2.
In the latest sequel, the Enterprise crew explores space as part of a five-year mission, during which they are attacked by a ruthless new enemy.
While the franchise has a huge fan base in North America, there is much less recognition for it in China.
The second installment of the rebooted series, Star Trek into Darkness, grossed only 353 million yuan ($53 million) in 2013, not even making the top 100 releases in China of all time, according to figures from entertainment researcher Entgroup.
So will this new Star Trek movie interest locals?
Simon Pegg, who stars as Montgomery Scott and has co-written the script, is confident.
He says it will be a new start and is fit for first-time watchers to dive into the story and be introduced to the characters.
"We start with the characters and from there we build the world, the situations and the actions," he tells Chinese reporters.
"The key is that we care about every role, and give them the right amount of screen time."
For diehard fans, they'll also be surprised to see a couple of bold twists: The iconic spacecraft Enterprise is destroyed and the character Lieutenant Hikaru Sulu is openly gay.
"It was Justin's idea to take down the Enterprise.
"My initial reaction was that we cannot do that ... But I soon realized that what Justin wanted to do was to take away the things that bond the crew together. It's the signature moment that the film is built on."
The Enterprise, which has taken the crew around the vast universe in a dozen films and TV series, is the rock of the Star Trek franchise, but is rapidly torn apart in an ambush in the film.