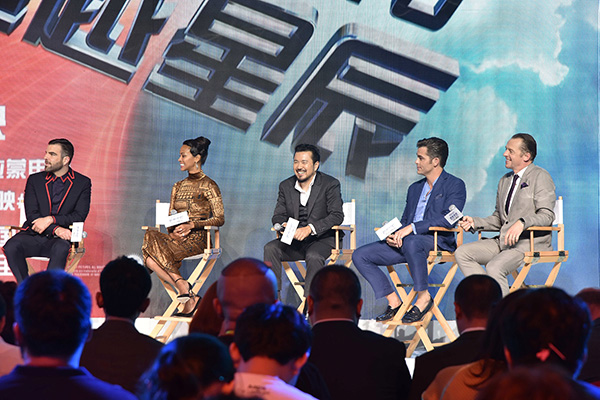 (From left to right) Actor Zachary Quinto, actress Zoe Saldana, director Justin Lin, actor Chris Pine and actor Simon Pegg attend a promotional event for the film in Beijing. [Photo provided to China Daily]
Meanwhile, Hikaru Sulu, the only Asian face in the main crew, is a gay man with a husband and a daughter in the latest movie, and this has sparked controversy in the United States.
Referring to this, Chris Pine, who reprises his role of Captain Kirk for the third time, says this is part of Star Trek's trait of crossing barriers.
Giving examples of this trait, Pine cites the famous 1968 interracial kiss, between William Shatner, who played Captain Kirk, and Nichelle Nichols, who played Lieutenant Uhura, in the TV series episode Plato's Stepchildren.
It's the first mixed-race kiss in the history of television in the US.
"If you take a look at the kiss, it's not a big deal now ...
"Star Trek was and is one of the most forward-thinking, creative franchises in history," says the 36-year-old American actor.
"It always pushes the boundaries."
Separately, Lin says that besides pushing the boundaries, Star Trek Beyond has a legacy of fantasy that spans half a century.
"The Star Trek franchise doesn't have anything that is related to our lives, but it's always about us and our future.
"It's a future where we (human beings) stop fighting each other and fight (evil) aliens."
For the Taiwan-born American filmmaker, Star Trek was a part of growing up.
As his parents, who ran a little fish and chip restaurant in California, usually finished work at 9 pm, Lin says the family typically ate at 10 pm and then let him watch Star Trek at 11 pm.
Putting a different spin on the Star Trek franchise, actress Zoe Saldana, who plays Nyota Uhura in the movie, says films such as Star Trek Beyond have educational significance for children.
"These movies have a very important message for children. It teaches them empathy at very early age, and helps them become good citizens."