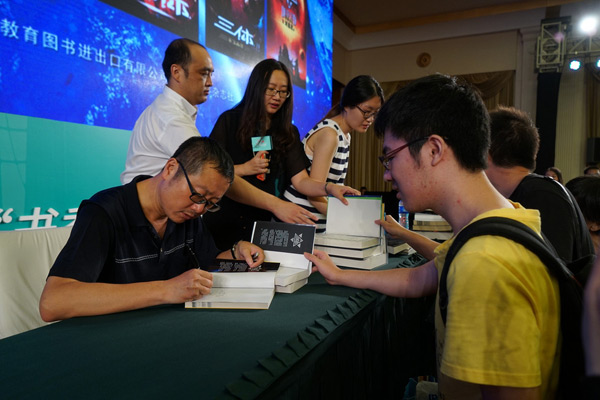 Liu Cixin, writer of The Three-Body Problem, holds a book signing in Shanghai on August 21. [Photo/IC]
Following on the huge success of The Three-Body Problem, a milestone science fiction trilogy written by Liu Cixin, Chinese post-80s female writer Hao Jingfang won over the judges panel of the World Science Fiction Society with her book Folding Beijing on August 21.
"Science fiction writers prepare for all future possibilities, whether good or bad, likely or unlikely. You can hear sci-fi writers talking about the strategies to face aliens, at the dinner table, seriously. We care about all possibilities. We live in the parallel universes," said Hao as she accepted a Hugo Award for Best Novel at the Kansas City Convention Center in the United States.
Meanwhile, it is really a coincidence that the English versions of The Three-Body Problem books were published in China on the same day, attracting lots of science fiction lovers who stood in long queues to purchase them.
"After Liu's winning the Hugo Award last year, Chinese science fiction has received increased attention from international science fiction circles. Also, it has a close relationship with China's rise and economic performance in particular," said Yao Haijun, deputy editor-in-chief of Science Fiction World, a renowned magazine in China.
"We have already built a bridge between China and the rest of the world by inviting professionals to translate the literature. In addition, foreign readers are curious about Chinese-style fiction and are interested in finding clues to China's future from these kinds of books," Yao added.
"Compared with other literature, science fiction is a genre best able to transcend cultural boundaries, as what it depicts is a universal crisis facing the entire human race. Therefore, Chinese science fiction may be a key to help foreign people know about China," Liu suggested.
Since the release of the English version of The Three-Body Problem in November two years ago, a total of 1.6 million copies have been sold globally. Besides, many influential news media including the New York Times and the Wall Street Journal have recommended and spoken highly of the series.
"I am fond of Liu's books and he is amazing. Attractive story plots, unique narrative methods and wonderful writing style... I am curious to find out about his views on global warming, non-proliferation of nuclear weapons and political systems in the next four hundred years," said foreign reader Hanson Steven about Liu's books.
"I am proud that more Chinese books, and science books in particular, have entered the world stage. By reading Chinese-style science fiction, foreign people just have to be amazed by our imagination," Weibo user Lansehudie said.