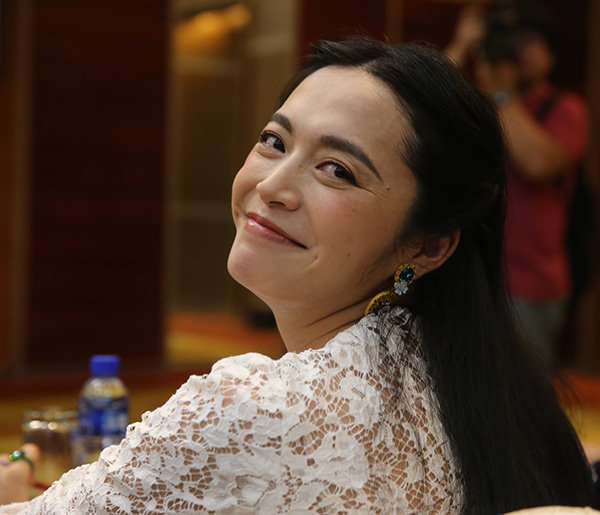 Yao Chen is nominated as best supporting actress. [Photo by Jiang Dong/China Daily]
Which movie will win an award at China's most influential film festival in September? It could be a film you saw back in 2014.
It is thanks to a selection process that considers films from the past two years for the awards.
The China Golden Rooster & Hundred Flowers Festival, which was initiated in 1962, decided in 2005 that its Golden Rooster and Hundred Flowers awards would be given every alternate year. But this selection process is now causing discontent in the industry. And prominent voices are up in arms.
Among them is Yin Li, the deputy chairman of the China Film Association, who says: "Most of the world's top movie awards are delivered annually. China's selection every two years is unscientific."
He also says that due to the huge annual film output, the two-year interval hinders the selection of the latest entries.
He adds that Chinese audiences' tastes are changing rapidly in the digital world, viewers may be confused to see the nomination of films that were released a long time ago."
Meanwhile, the list of the nominees for The Hundred Flower Awards was released on Tuesday.
Three smash hits-Monster Hunt; Dearest, a child kidnapping-themed movie, and the tomb raider best-seller adaptation Mojin: The Lost Legend-topped the list with six nominations each.
Action star Wu Jing's directorial debut Wolf Warriors and the art-house crime thriller The Dead End each earned four nominations, while the dark-horse comedy Goodbye Mr. Loser grabbed three.
Except for Dearest, the other five-among the highest-grossers last year-will compete for the top award-best picture-at the festival to be held from Sept 21 to 24 in Tangshan, in Hebei province.
Zhang Hong, vice-chairman of the festival, says the films were selected in a nationwide poll with more than 26.85 million votes cast.
Pointing to shfiting focus from financial returns to quality movies, he says: "The fact that China's box-office tally was 30 billion yuan ($4.51 million) in the first eight months, a slight decline compared with last year, it shows the domestic film industry has switched focusing purely on the box office to quality productions.
"This also makes us believe that China's movie market will be more healthy and prosperous in the future," he says.
Most of the nominees are from smash hits released last year, but some are from 2014.
China produced 618 features in 2014, and the number climbed to 686 in 2015.
Related:
Nominees of 33rd Hundred Flowers Award announced