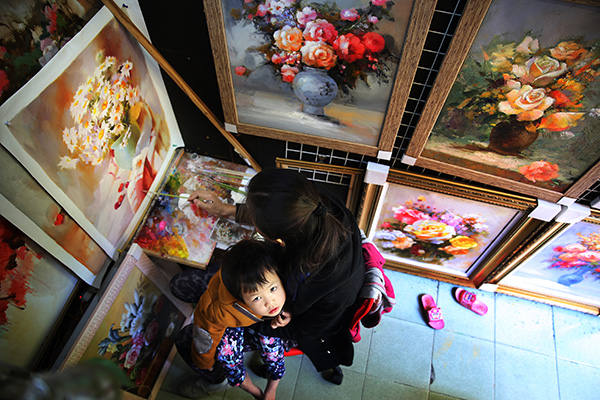 An oil painter works on a still life painting as her daughter sits on her lap at an art gallery in Dafen village, Shenzhen, Guangdong province. [Photo by Xu Yuanchang/China Daily]
Qiu Jiwen has worked as an artist in Dafen village for more than two years. For years, the village, in the southern city of Shenzhen, Guangdong province, was one of the world's largest producers and exporters of oil paintings.
Although Dafen's arts-related output was worth 4.3 billion yuan ($646 million) last year, a rise of 3.6 percent from 2014, things are changing.
The combination of an uncertain global economy, China's slowing growth and rising domestic competition has seen demand plummet among regular customers, such as hotels, conference centers and private collectors, and resulted in spiraling sales.
Although his monthly outgoings are usually about 4,000 yuan, last month, Qiu earned just 2,000 yuan, far from enough to cover his basic living costs.
The 30-something pays 1,300 yuan a month to rent a one-bedroom apartment, where he lives with his 1-year-old daughter, and spends about 1,200 yuan a month on food, excluding baby milk powder. He makes his paintings in a small space in the village that he rents for 1,000 yuan a month.
"A monthly budget of 4,000 yuan is very small, and I am unable to feed my family on such a low income," he said.
Qiu is one of thousands of painters in Dafen being affected by falling demand, both domestically and internationally. According to official statistics, the village is home to more than 1,200 art galleries and 60 oil painting enterprises, while more than 8,000 people are engaged in the local painting industry.
"Business has declined a lot since the start of the year," said Wei Haihan, 37, who runs a painting workshop and a factory in the village. "Now, we only make 50 percent or even less than we made last year."
Another painter, who only gave his surname as Huang, said he had not received an order for two months.