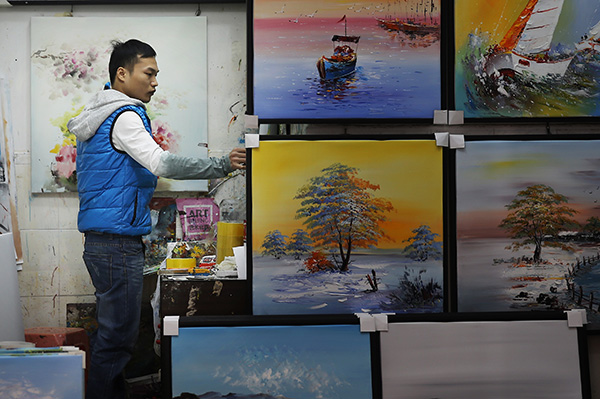 A worker arranges oil paintings at an art gallery in Dafen. [Photo by Xu Yuanchang/China Daily]
The luxury gap
Oil paintings are a luxury rather than a necessity, and the industry has been one of the first to be affected by the macroeconomic environment, while the impact of slowing economic growth is evident.
"As economic growth softens, construction of properties and hotels also slows, which directly affects demand for paintings. Meanwhile, rising competition from other markets, such as Xiamen in Fujian province, and Vietnam, has also diverted some business from the village," said Liu Yajing, director of Dafen's management office.
According to Wei, hotels were once major clients. "Sometimes an order from a hotel could reach 1 million yuan or more. But now, in Dongguan city, Guangdong, where a lot of orders came from, a number of hotels have closed following a crackdown on prostitution, while in other cities across the country, the economic contraction has slowed the construction of new hotels."
Since the government's anti-corruption drive was launched in 2013, the loss of orders from officials, once a powerful consumer group, has also contributed to the decline, he added.
The development of oil painting in Dafen can be traced back to the late 1980s, when a dealer from Hong Kong first brought the business to the village. He employed art students and painters to produce and sell works, mostly reproductions of masterpieces by famous Western artists such as Van Gogh, Monet and Picasso.
As the number of painters rose, the village gradually developed into a globally renowned production base for oil paintings, at one point accounting for more than 70 percent of the global market share for art.
In the past, Dafen's painters relied heavily on overseas sales, with exports accounting for up to 80 percent of total sales. However, the 2008 global financial crisis dealt a major, long-lasting blow to their business. Government data show that sales of oil paintings fell more than 50 percent to 180 million yuan in 2008 from 340 million in 2006. A previous report by local media said that in the first half of 2012, exports fell 52.3 percent from the same period a year earlier.
To adapt to the change, the artists focused their attention on the domestic market, and now about 50 percent of sales are made in China.
"Business from the domestic market began to rise considerably from 2010, when we were still struggling to recover from the global financial crisis. That helped offset our losses, but now, the domestic performance is getting worse. We don't know how tomorrow will turn out," said Zhang Minxin, who has lived in Dafen for 12 years.
Luan Liyin, head of the Dafen Fine Art Industry Association, said that as the market changes, the key for survival for the artists and the village lies in innovation and integration with other industries.
Originality is key
"The era when painters relied on replicating Western masterpieces is gone. People now have higher demands for art, and that requires painters to create original works," Luan said.
"Meanwhile, Dafen should integrate the culture, tourism and internet industries to develop art derivatives to extend the art industry chain. In this way, it could achieve a transformation, upgrade and make development sustainable."
An increasing number of Dafen painters have already realized the need for change and are making efforts to adapt to the new environment. The village now hosts more than 200 painters producing original artworks, and it's estimated that more than 60 percent of Dafen's art dealers have opened internet marketing platforms to seek online-to-offline development.
"The government is also providing support to help upgrade the industry by improving the infrastructure and offering training to painters. Dafen is set to be transformed into a high-end art market with renewed economic vitality," said Liu, from the Dafen management office.
Related:
Is it a manhole cover or ancient coin?