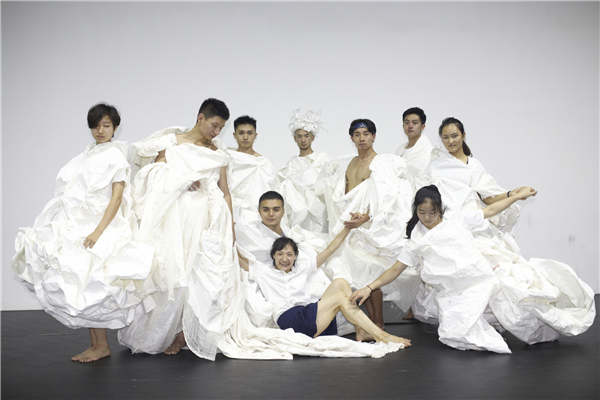 Multimedia performance Once Upon a Time There Was a Mountain weaves traditional Chinese poetry into contemporary theater. Photos provided to China Daily
Chinese theater director Tian Gebing is known for incorporating elements from visual art into his plays.
In his German-Chinese 2015 production, Totally Happy, he explored the relationship between society and the individual without using conversation between the characters and without any apparent storyline.
In May, he staged Decalogue at the oldest theater in Poland, the National Stary Theatre, which was built in 1781.
His latest production, Once Upon a Time There Was a Mountain, sees Tian's turning traditional Chinese poetry into contemporary theater. The multimedia performance will premier in Beijing on Saturday.
"Nearly all Chinese grew up reading and reciting Chinese poems. But usually these poems conjure images of ancient men in long robes with serious faces, which are boring," he says.
"I don't want it to be that way. I want to make these poems fun and visible."
Describing his show as the Chinese theatrical version of Alice's Adventures in Wonderland, Tian's story is about a young girl who falls asleep while doing her Chinese poetry homework.
In her dream, the characters and scenes portrayed in the poems come alive.
The founder of Paper Tiger Theater Studio in 1997, one of the earliest independent theater companies in China, Tian invited actors from his studio and an international crew of French scene designer Fabien Iliou and Warsaw based musician Piotr Kurek to be part of his new work.