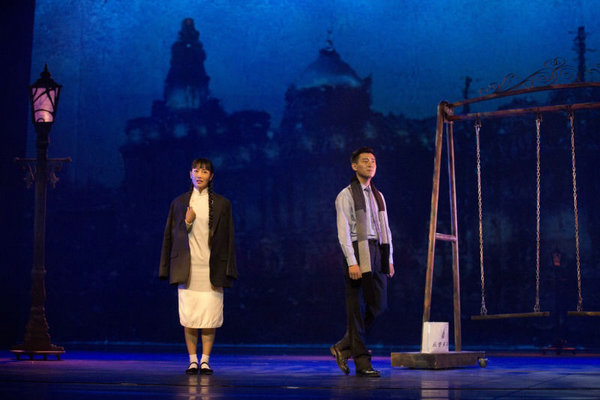 Taiwan-based playwright Stan Lai's Secret Love in Peach Blossom Land is staged in Huichang county, Jiangxi province.[Photo provided to China Daily]
Nestled between the busy and narrow streets of downtown Huichang, the county's sole theater is an unassuming venue.
Its modest doors struggle to stand out in the concrete jungle, offering little clue as to the quality hidden inside.
The audience quickly fills the three-story 1,000-seat Theater of Huichang County, in East China's Jiangxi province. They don't know what to expect-few have seen anything similar to the unfolding play.
"I am especially pleased that I came to my hometown to perform my play," legendary playwright Stan Lai told the crowd on Friday night, after his opening show for the Huichang tourism and culture festival.
His play, Secret Love in Peach Blossom Land, has been received with critical acclaim for three decades, and was scheduled to be staged in the county for three consecutive days.
It's hardly a fitting scene for a production from one of Asia's greatest playwrights. But Lai, also a world-renowned director, wouldn't be anywhere else.
"It's absolutely amazing to perform here," he tells China Daily.
"It's a place that would never see theater like this... never see the same level of theater you can see in Beijing or Shanghai.
"And touring groups like ours would never come here. Not a possibility ever.
"Except for us," he adds.
The reason is simple.
Lai's father was a Huichang native before leaving the county in 1947 to work as a diplomat in the United States. Lai was born in Washington, and his father never returned to his hometown.
He's still amazed his father managed to learn perfect English and become a scholar, emerging from the confines of a county in which a lot of people are still poor.
"I always wanted to do something for my father's hometown and so tome this is sort of like a social experiment," says Lai.