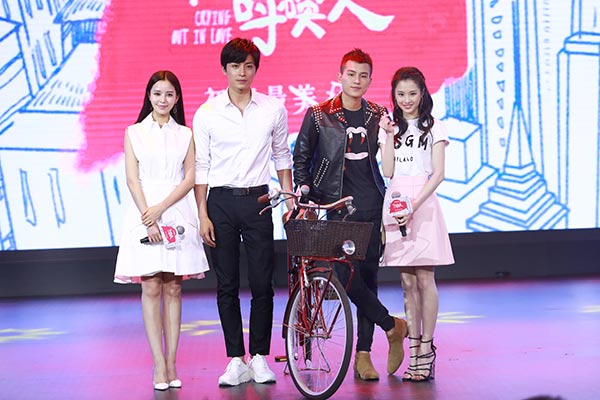 Cast of the film [Photo provided to China Daily]
South Korean director Kwak Jae-young, known for the classic romance film My Sassy Girl, says he hopes his latest Crying out in Love will become the new favorite of Chinese fans.
My Sassy Girl, released in 2001, is one of the most-adored romantic films in China. It has received a high score of 8 points out of 10 on the country's largest review site Douban.com.
Crying out in Love, adapted from the Japanese author Kyoichi Katayama's best-selling novel Scorates in Love, will open in Chinese mainland theaters on Aug 26.
The tale narrates a journey across the world to track back the protagonist's memory of his true love.
With a young stars-studded cast, the coming-of-age romance movie stars actors Ou Hao, Gao Taiyu and actress Zhang Huiwen and Wenxin.
Kwak reveals he is a fan of the novel and decided to adapt it into film nearly 10 years ago.
The South Korean veteran also says he wants audiences to be touched by the selfless, pure love, even if present-day viewers do not believe in it.
"I couldn't hold my tears every time I watched the footage during the post-production process," says the award-winning helmer known for romances.
"I just hope the Chinese audiences will relate with the tale. I don't care much about the box office performance."