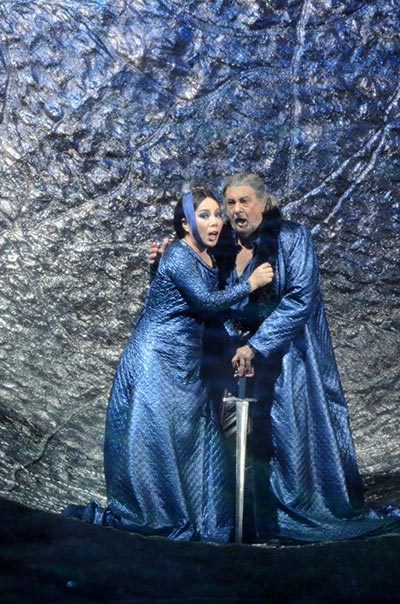 The National Center for the Performing Arts' production of Macbeth stars Domingo in the title role with Chinese soprano Sun Xiuwei as Lady Macbeth. [Photo by Ling Feng/China Daily]
Hailed as "the king of opera" globally, Placido Domingo has given more than 3,800 performances of 147 roles, in addition to having conducted more than 500 performances and made hundreds of audio and video recordings and films over the past 50 years.
And, at 75, he shows no sign of slowing down.
He arrived in Beijing at 4 am on Sept 2, after inaugurating the world's newest opera house-Dubai Opera-with a gala concert on Aug 31.
On Sept 7 and 10, Domingo will return to Giuseppe Verdi's masterpiece, Macbeth, based on William Shakespeare's play, which was first performed in 1847.
The show will be staged at Beijing's National Center for the Performing Arts.
Conducted by the Israeli conductor, Daniel Oren, and directed by Hugo de Ana, the production will star Domingo in the title role, along with Chinese soprano Sun Xiuwei as Lady Macbeth, Tian Haojiang as Banco and Wang Chong as Macduff.
Later in September and in October, Domingo will be at the Los Angeles Opera, where he has been the general director since 2003, and at the Theater an der Wien in Vienna to do the same role.
"I like working with different companies and directors. And Macbeth is one of the most classic operas. It's the connection between Verdi and Shakespeare that makes the opera a phenomenon," says Domingo.
He played Macbeth for the first time in 2015 at the Berlin State Opera.
"The role is quite new to me. It offers all kinds of challenges and excitement," he says.