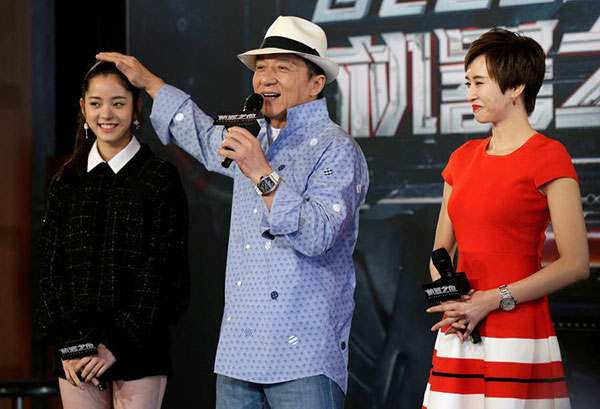 Actor Jackie Chan (C) plays with Nana Ou-Yang (L) and Erica Xia-Hou at the announcement of the beginning of production for the science fiction action film 'Bleeding Steel', which has been billed by producers as the biggest budget Chinese film ever shot in Australia, in Sydney, Australia July 28, 2016.[Photo/Agencies]
The Chinese film industry is seeking to expand its influence on the global stage, which provides the perfect opportunity for international producers and distributors to get further involved in the lucrative Chinese market, a senior executive in the Hollywood business of film production and distribution told Xinhua in an interview here on Tuesday.
Stuart Ford, founder and CEO of IM Global, a Los Angeles-based multifunction company specialising in international film production, sales and distribution, said instead of focusing only on the domestic box office, Chinese companies and filmmakers are seeking to expand internationally.
"We want to be the bridge of that international expansion," he said.
Ford arrived at the 73rd Venice Film Festival to attend the premiere of Mel Gibson's Hacksaw Ridge, a new film distributed globally by his company.
His company, since established in 2007, has found commercial success in the Chinese market by introducing Hollywood blockbusters to Chinese audiences.
In recent years, the company, with offices established in Beijing and Shanghai, also started to help Chinese films access the overseas market, including Mr. Six directed by Guan Hu and Mermaid by Stephen Chow.
In Ford's opinion, international film festivals, including the Venice Film Festival, have shown a growing appetite for the presence of Chinese companies and Chinese talent.
"Film festivals are the places where you can get the most audience reaction and the most media reaction. But the Chinese film industry is relatively young when it comes to international publicity. So we decided to create a business that could help these Chinese companies and Chinese talent export themselves to major festivals as global players," he explained.