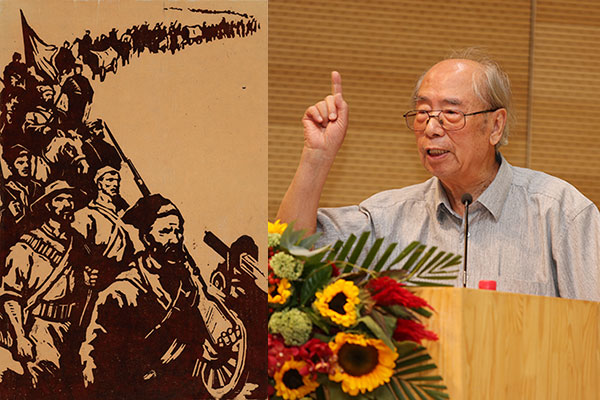 Wu Biduan (right) is showing his signature works, like The Iron Flood (left), in Beijing.[Photo provided to China Daily]
Wu Biduan is holding his first retrospective exhibition at the Central Academy of Fine Arts in Beijing, where the 90-year-old taught for several decades until his retirement in 1988.
A noted lithography artist, Wu produced many iconic works, including a portrait of New China's founding father Mao Zedong, in which he incorporated the style of traditional Chinese New Year paintings; a portrait of Zhou Enlai that resonated with the public after the premier's death in 1976; and Sunflower Field, in which Wu talks of social transformation after the reform and opening-up.
The ongoing exhibition, titled Incised Traces, celebrates the artist's versatility in sketches, illustrations, comic strips, watercolors and ink paintings. His artistic career spanning seven decades is typical of a lot of artists of his generation, who devoted their time to portraying common people's lives.
Wu's first association with art can be traced back to his student days at the Yucai Middle School, founded by the famed educator Tao Xingzhi in Chongqing in 1939. It took in many refugee children like Wu, who escaped from their hometowns during the Japanese invasion.
Wu joined a painting group in school, in which he studied sketching, drawing and coloring, and was introduced to Western art. He created his first published work at age 15, a woodcut titled Bloody Accusation that appeared on Xinhua Daily, the first newspaper published by the Communist Party of China.
The woodcut reproduced a tragic scene of children killed in Japanese bombings of Chongqing in 1938. People's agonies back then led Wu to create more such artwork throughout his career.
A graduate of the erstwhile Northeast Associated University, Wu went for advanced studies to the Ilya Repin State Academic Institute of Fine Arts, Sculpture and Architecture in St. Petersburg from 1956 to 1959.