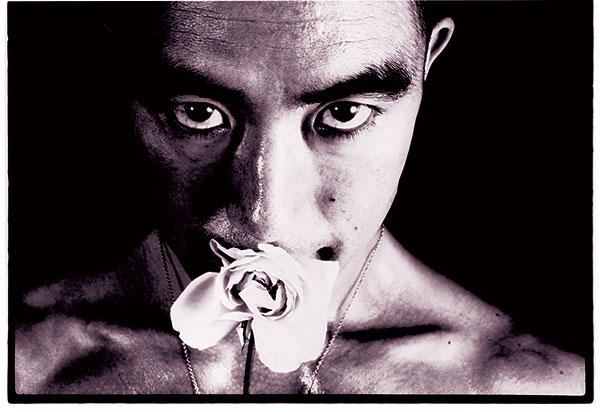 The Ordeal by Roses series by Eikoh Hosoe, a pioneer of Japanese experimental photography.[Photo provided to China Daily]
Photography's purpose is to capture slices of life and freeze them for eternity on paper. And, with new technology, artists have moved beyond realistic depictions to monologues through photography.
Pretend to Be Romantic, an exhibition at Beijing's Hui Art Space, is about the distinctively expressive approaches to photography of six artists from China and Japan. Its curator, Shi Zheng, says the show is not about techniques but how photographers transform their instant, romantic emotions into the images on display.
Eikoh Hosoe, 83, is known as the father of Japanese experimental photography. On show is a photo from his iconic Ordeal by Roses series in collaboration with compatriot Yukio Mishima in 1961.
Mishima, who was a noted author, is seen kissing a rose in a photo. His thick eyebrows, sharp eyes staring into the camera and naked shoulders are visible in the same image.
The photo emits a mystic feeling that distinguishes Hosoe's works. By highlighting Mishima's masculinity, the photographer explored the subject of life and death. Years later, Mishima's suicide in his prime made the series significant.
Nobuyoshi Araki, 76, approaches the theme of death most famously with his photos of female bodies. His two series on show, one of black-and-white photos and another taken by instant cameras with color film, focus on blossoming flowers that represent sexy women. But the flowers are said to smell bad, giving a hint of death as a destination of every one.
The media quoted Araki as saying earlier: "Life and death are essentially an integration."
Today's young photographers are carrying on with more conceptual, vanguard experiments as the exhibition shows.
Beijing-based artist Chi Peng shows his photographic installations in which he pairs one photo with a mirror, with the audience being able to see only the reflections of the photos.
By doing so, Chi invites people to examine the relationship between two lovers and between one's true self and his or her physical appearance in others' eyes, according to curator Shi.
Chi says it's become difficult for new developments in photography. "Rather than how to photograph, one should focus on what he wants to express."
Photos of both Cheng Yinan and Yoshinori Mizutani are quite poetic. Cheng's works offer a feeling of both motion and aloofness, which is attributed to his student years in the United States.
Mizutani zooms in on the beauty of nature in his photos of 2014, titled Yusurika (buzzer midge in Japanese). The small flies turn into white balls of light with cameras flashes and form a fantastic landscape in his works.
Mizutani traces his close bond with nature to his childhood, which he spent in a place surrounded by mountains, creeks, paddy fields and insects. He says after he moved to Tokyo more than 10 years ago, he has been "seeking nature", dreaming of landscapes of his childhood.
If you go
9 am-9 pm, through Sept 20. Hui Art Space, Grand Summit, Liangmaqiao, 19 Dongfang East Road, Chaoyang district, Beijing. 010-8531-5282.