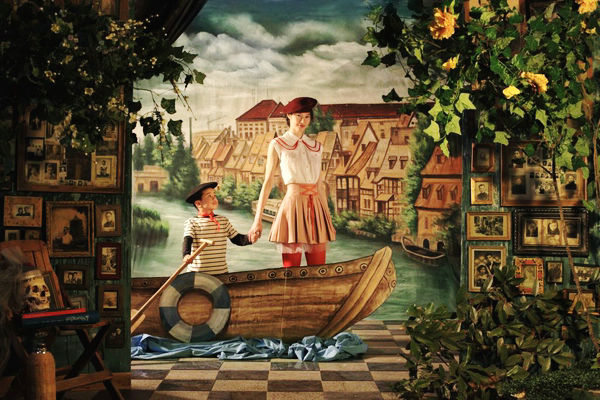 Contemporary photos of aspirational Chinese artists are on show at the China Cultural Center in Brussels. [Photo provided to China Daily]
The China Cultural Center in the Belgian capital is showcasing until Sept 10 some of China's finest contemporary photography. The exhibition, titled China: Grain to Pixel, 1980 to Today, displays 40 works from 25 photographers and marks China's radical social and cultural changes over the last 35 years.
Young, aspirational photographers including Chen Man, 28 and Chilli, 29, who studied together, demonstrate commercial even kitsch images, particularly Chen's exhibition's poster Miss Wan Studies Hard. This depicts a miniskirted woman, the granddaughter of Wan Li, an economic leader under Deng Xiaoping, cycling with her Dior bag on a bicycle piled high with books.
Organized by the Shanghai Municipal Administration of Culture, Radio, Film& TV and the China Cultural Center, the exhibition is curated by the Shanghai Center of Photography, founded by Pulitzer Prizewinning Liu Heung Shing and his partner Karen Smith.
Hong Kongborn Liu, a former foreign correspondent and Associated Press photojournalist, told Xinhua: "This show emphasizes the major changes in Chinese life and photography from 1980 to now."
He added: "Photography is huge in China, especially now with the iPhone. Instead of traditional documentation, young people are using film and digital techniques in a much broader way than before."