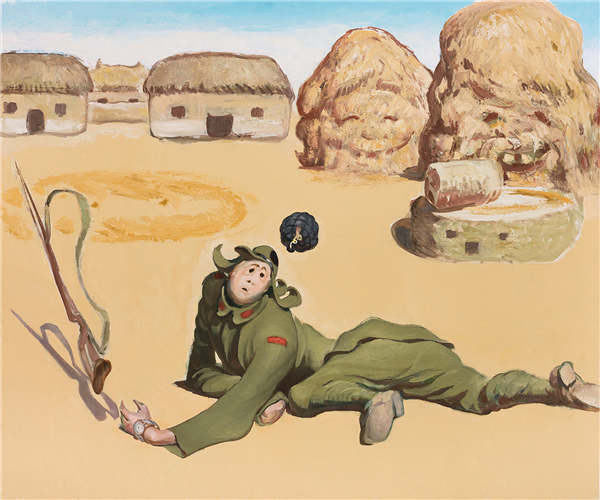 Japanese Devil, oil on canvas, 200x240cm, 2015, by Wang Xingwei. [Photo provided to China Daily]
Chinese artist Wang Xingwei's latest show mockingly depicts the exaggeration of Chinese people's fictionalizing power to fight against Japanese soldiers during China's War of Resistance against Japanese Aggression (1937-45), a once popular subject put on air by many TV dramas in the past few years.
The show Honor and Disgrace features oil paintings and sketches and drafts the painter drew for his final-version paintings. Most of the works on display were painted between 2015 and 2016.
In the section of disgrace, Wang ironically portrays the Japanese soldiers as clowns, the inspiration for which he says he got from TV dramas once aired on Chinese screens but banned last year. These TV series often exaggerate Chinese people's power when they fight against Japanese invaders, such as people using their fist to repel many soldiers.
"I paint my works in the style of cartoons. In fact, I don't focus much on the content of my paintings. I want to show the composition and colors of my drawings, more concentrating on techniques, " Wang, 47, said.
To show his painting techniques, he chooses Jigong --- a well-known Buddhist monk who lived hundreds of years ago --- as the subject against a modern scenario.
Wang was born in Shenyang in Northeastern China's Liaoning province and lives in Beijing. He has put on many solo shows across the world. The latest show is being held at the China Contemporary Art Institute and will last until October 23.