Wanda set to seal film deals
Real estate and entertainment conglomerate Dalian Wanda Group Co expects to seal two billion-dollar film-related deals in the United States this year, chairman Wang Jianlin said, as China's richest man steps up his push into Hollywood.
After completing the acquisition of two non-production film companies - each worth above $1 billion - Dalian Wanda's next target would be a so-called "Big Six" movie studio, Wang told Reuters in an exclusive interview.
"My goal is to buy Hollywood companies and bring their technology and capability to China," Wang said.
He declined to elaborate on the two deals in the pipeline, which would further bolster Wanda's motion picture empire.
In January, Wang splashed out $3.5 billion to buy a controlling stake in the US film studio Legendary Entertainment, which is behind hits such as Jurassic World, making Wanda the first Chinese firm to own a major Hollywood studio.
Dalian Wanda, which was added to the Fortune Global 500 list this year, aims to triple revenue from its cultural division, led by entertainment, sports and tourism, to 150 billion yuan ($22.6 billion) by 2020.
Wanda has held talks with Viacom Inc about acquiring its stake in Paramount Pictures, one of Hollywood's "Big Six" studios, which also include Twentieth Century Fox, Warner Brothers, Walt Disney, Universal Pictures and Columbia.
"We are interested not only in Paramount, but in all of them. If one of the Big Six would be willing to be sold to us, we would be interested," Wang said.
"Only the six are real global film companies, while the rest are not. If we are to build a real movie empire, this is a necessary step."
Dalian Wanda is leading a slew of Chinese firms that are investing in Hollywood. They include Fosun International, which has invested in Studio 8, a production company started by former Warner Brothers executive Jeff Robinov, and Huayi Brothers Media Corp, which is producing films with STX Entertainment, a studio invested in by Chinese private equity company Hony Capital.
Dalian Wanda will also start co-investing in global blockbusters next year, Wang added.
The conglomerate, which began as a property developer in the northeastern city of Dalian, is also looking to extend the world's biggest motion picture theater network, Wang said.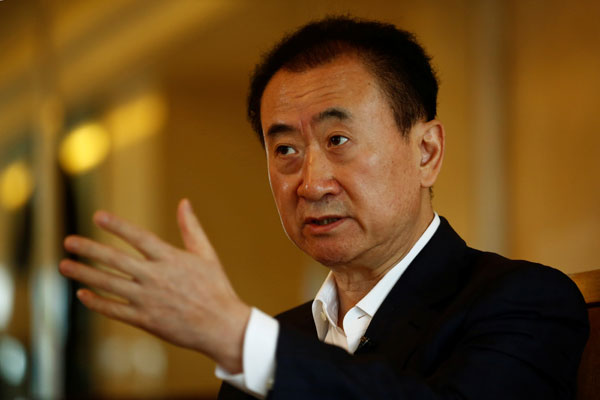 Wang Jianlin, chairman of the Wanda Group, speaks during an interview in Beijing on Tuesday. Reuters