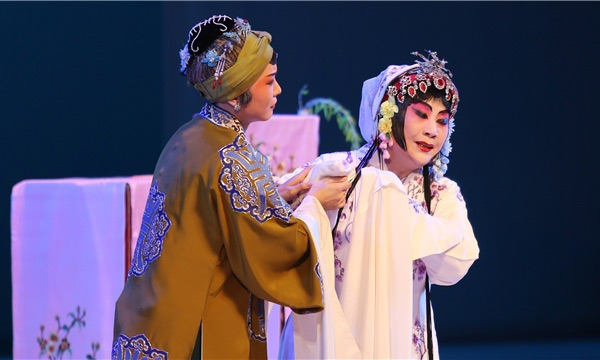 A stage photo of The Peony Pavilion. [Photo/ chncpa.org]
"The year 2016 marks the 400th anniversary of the deaths of the Chinese playwright Tang Xianzu in the Ming Dynasty and his British counterpart William Shakespeare. In order to better know each other, China and Britain may jointly commemorate the two literary giants," said Chinese President Xi Jinping during his state visit to the UK in 2015.
In response, commemorations for the 400th anniversary since the deaths of the two playwrights were held by the Ministry of Culture to promote Chinese tradition. As part of the commemorations, outstanding theatrical performances opened at the National Centre for the Performing Arts on July 16. Minister of Culture Luo Shugang addressed the opening ceremony, presided over by Vice-Minister Dong Wei. The audience then watched the Kunqu Opera The Handan Dream, presented by the Shanghai Kunqu Opera Troupe.
"Kunqu Opera is one of the Chinese traditional dramas. Given its over 600-year history, it is hailed as the ancestor of all plays. In May, 2001, it was listed among the first world oral and intangible cultural heritages. We Chinese should chew on President Xi's speech at the Forum on Literature and Art and develop our nation's traditional culture. In the world of Chinese opera, more talents and great productions are beneficial to the formation of an opera-friendly society. At the end of the day, everyone is making contribution to the realization of the Chinese Dream with a moderately prosperous society and the rejuvenation of Chinese nation at the core," Luo said.
There will be eleven performances at the National Centre for the Performing Arts. A total of seven dramas will be presented by four Kunqu Opera troupes. Surprisingly, the Shanghai Kunqu Opera Troupe will be the first to stage Tang Xianxu's Four Dreams of Linchuan, including four classic plays The Peony Pavilion, The Southern Tributary State, The Handan Dream and The Purple Hairpin. It is one of the latest achievements in protecting and supporting Kunqu art and the fruit of Kun artists' innovation and creativeness. By September 5, the Northern Kunqu Opera Theatre, Sunzhou Kunqu Opera Theatre and Jiangsu Performing Arts Group will perform Four Dreams of Linchuan, as well.
The commemorations consist of a symposium on Tang Xianzu, a China-UK forum on Tang and Shakespeare and a display of Tang's works under the auspice of the China Cultural Center.