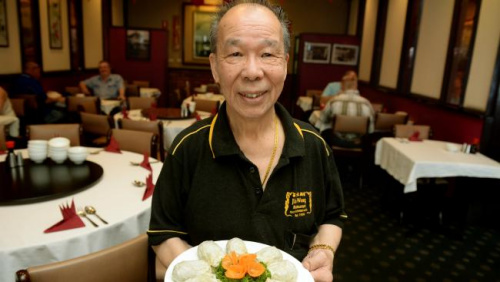 [Photo/Chinanews.com]
One of Australia's best-known Chinese migrants,dim sim king' Jimmy Wong, is set to have a laneway named in his honor in his adopted home of Melbourne.
The man behind the popular Jim Wong restaurant, located in the Melbourne suburb of Footscray, was known for his legendary dim sims, which attracted devotees from across Victoria. The restaurant had also become a favourite among Australia's sport and television personalities.
Wong was born in China's Guangdong province, but moved to Melbourne at 13 where his uncle taught him to cook. At 18 years of age, Wong opened the Jim Wong restaurant, in what was described as an instant success.
Dubbed the 'dim sim king,' Wong was known to sell more than 3,000 dim sim dishes a week.
Wong said it was quality pork, celery and cabbage and "years of perfecting" that the customers valued in his signature dim sims.
"I use 95 percent lean pork and only the best ingredients," he said in an interview last year. "I have to know and be satisfied with everything that goes into them."
In May this year, Wong died at age 75 after he suffered injuries from a fall. Thousands of people in the Footscray community farewelled him during a memorial service at a well-known local football oval.
However, the community are eager to carry on Wong's legacy, with the Maribyrnong Council set to vote on Tuesday night as to whether they will name the laneway located near the restaurant as the Jimmy Wong Lane, in honor of his significant contribution to the Footscray, and Melbourne community.
After his sudden death, Maryanne Wong, Jim's wife, said the restaurant would remain open.
"Jimmy loved the restaurant and he wouldn't want me to sell it so I will keep it open for him," she told News Corp in May.
"He was an amazing person and a Footscray man through and through. He was very kind and would help anyone who asked for help."
"He was never going to retire, he said he would work until the day he died and that he did."